hello , hello, could you make me a modified bios for asus G502VM (GL502VM V2.0)
I tried to modify by integrating one of the 2 drivers, I flashed the bios with afudos, it worked well but my my nvme ssd is not detected it is a samsung SM851, so it seems that this laptop does not work with an nvme ssd.
Just check the manual: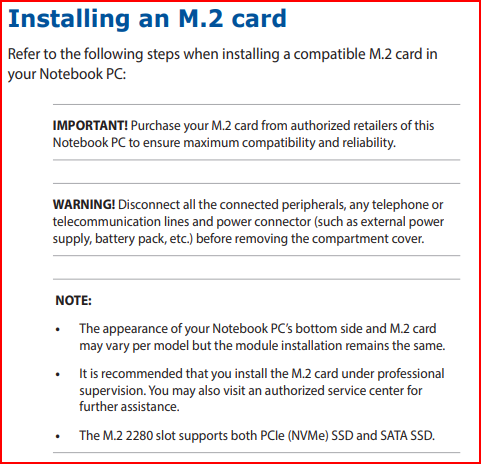 Checked lastest bios 304 and it has already NVMe support, so your issue could be other, no mod is required, could be Asus blocked feature.
G502VM - Support (asus.com)
0409_E11526_GL502VT_VY_V2_A.pdf (asus.com)
PM851 not SM it seems…and didnt found any Samsung M.2 NVMe 851 only M.2 SATA


EDIT: Provided info/links still valid, some info/bios are shared across several models, yours in particularly (G502VM-FY083T)
And now seems you already broke the machine… help laptop asus G502VM (GL502VM V2.0) no backlight keyboard or firmware ME failed (bios-mods.com)
my ssd is samsung MZ-HPV2560 (SM951)
MZHPV256HDGL-00000

M.2 2280 M key
my asus are G502VM with mainboard V2.0 not 2.1
my ssd are not detected
G502VM is not G502VT
SN number G502VM : SN NUMBER : G9N0CV07356136E
do you have another idea?
ok , that does not seem easy to do , would have a full bios with the ME part so i can flash it with afudos . thank you
HELLO, THE SAMSUNG SM951 SSD is not really an nvme that's why it is not detected in boot mode by the GL502VM it can work as a storage disk only on this gl502VM
ON SEVERAL FORUMS HAVE BEEN demonstrated several problems of detection of this reference of ssd even in an nvme usb box that I have it is not detected in the box and makes it heat. it's a pcie ssd not nvme