Forward Compatibility - 16TB+ MBR GPT BIOS UEFI PCIe 5.0 DDR5 PAE 128GB Sapphire Rapids Discussions 2000 XP 2003 2009 7nm hexadecacore dotriacontacore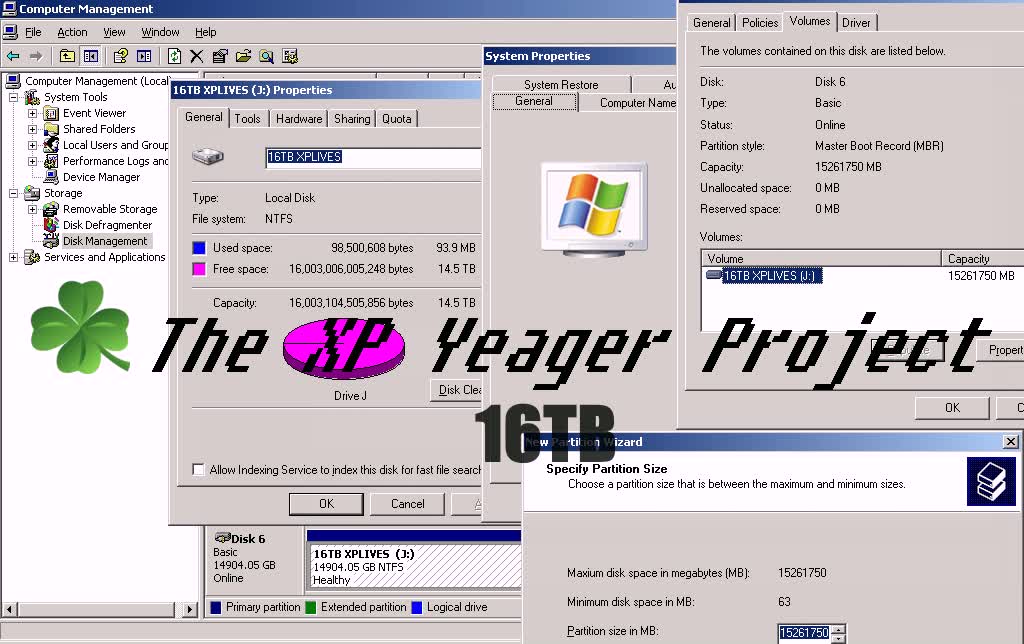 Happy St. Patrick's Day!

I haven't been around much due to my hectic schedule and insufficient time and have been working on something I've code named The XP Yeager Project: 16TB. It is the culmination of my research while working on another project.

Now this experiment was successfully done a week ago but I had to compile all my research together and just show you the aftermath of how it looks in Windows XP. I don't believe anyone else has achieved this yet so it will be a first anywhere.

For awhile Microsoft had led us to believe you simply couldn't access more than 2.2TB in Windows XP and we had to switch to a newer OS that supported GPT which could alleviate it.

Being a die hard user of XP and consumer of mass storage capacities I simply said FU I'm not upgrading without a fight.

For many years I lived with 2.0 TB drives out of convenience but over the years I migrated to 4TB and 8TB on Windows XP but I found the capacities still too limiting for my taste…

16TB was the next threshold and I wanted to achieve it.

After much experimenting and planning I devised a plan to get ahead of the tired waiting game from manufacturers to truly test the limits of XP before anyone else could and not wait 5 or 10 years from now to do it.

Most people have probably given up on using XP a long time ago by 2014 or earlier and one reason could have been this 2TB capacity limit. Some may find 2TB plenty of space today but I'm a power user so when there's a will there's a way.

Now there are large capacity SSDs such as the Samsung PM1633a which cost the price of a Mercedes Benz S Class when it first came out. Today it can be had for $11,000. I'm not Bill Gate's kid or this would be chump change right?



https://www.cdw.com/product/Samsung-PM16…-12Gb-s/4079174

But this would only get you to 15.36TB and shy of 16TB.
MZILS15THMLS-00003

Back in late 2008 the earliest inkling of the release of the very first 3.5" 2TB drive was found in this pdf file from December 2008.

http://web.archive.org/web/2009020611211…dwd6400aacs.pdf

WD20EADS was the Western Digital's breakthrough capacity smasher and by then XP had become 7 years old and on the verge of feeling its age with Vista breathing down its neck for 2 years with no luck and 6 months before Microsoft made another attempt with Windows 7 to shut down XP once and for all.

Windows XP is now 16 years old so it's fitting that I now bring you the first glimpses of what 16TB actually looks like working and remember this is highly experimental but I can confirm XP handles it.

Meanwhile I have another upcoming project breaking the 16TiB Barrier which comes to around 17.59TB and searching for ways to use larger capacity drives than this theoretical limit in XP.


[Chuck Yeager]
https://en.wikipedia.org/wiki/Chuck_Yeager

Some may wonder who or what is this Yeager? Chuck Yeager is a ground breaker and an American icon who was the first man to break the speed of sound at Mach 1. I'm here to try and break the capacity barrier in XP. It's all for fun really and it just might give XP one more foot out of the grave. However this might not be so fun for Microsoft and drive manufacturers who really have made great efforts to stop it from happening and forcing people to believe 2.0 TB was all you could ever use on XP.

https://support.microsoft.com/en-us/help…arger-than-2-tb

Some of what I've done I can't reveal at the moment as they will find a way to possibly disable it and thus wasted my time and effort and my plan would have failed. I'm hoping by the time Cannon Lake is released I can do another confirmation to test my technique hasn't been broken. Intel and Microsoft has a habit of breaking things that worked fine before when releasing a new chipset. An example is Intel killing of eHCI USB 2.0 ports making installing XP, Vista, and Windows 7 more difficult. I might wait one more generation after Cannon Lake has been released before revealing how it's done where by then it will be also much simpler and cheaper to attempt.

The longest wait will be the release of Tiger Lake or Sapphire Rapids which should be at the 7nm die shrink. By then there will be plenty of supply out in the public that they can't stop my technique from happening and people can do it affordably.

But how many people will still be using XP in 2020-2022? Currently about 7% in 2018. How common and affordable will 16TB+ capacity drives be in 2022?

Early estimates it looks like 2020 when the 12th Generation Sapphire Rapids will arrive and 7nm with possibly 8C/16T CPUs should be common place. I'm betting it may be around 4 years time in 2022 if given their past estimates are always delayed before the secrets of The XP Yeager Project is fully revealed assuming it still works. Hopefully by then it won't matter as the capacity limits have been reached for XP through my experiments and the significance of XP won't be a concern for them to waste resources on disabling or preventing my methods from working and probably either Windows 7 will have fended off Windows 10 from overtaking it. But who wouldn't like to use 16TB+ in Windows XP and using it on octacore CPUs?

Other future projects I'm working on is getting Windows XP to work on Intel Coffee Lake, Cannon Lake and beyond including AMD Bristol Ridge and Ryzen.

Now on to the DOUBLE money shot !!!