Intel CSTXE 4 Firmware v4.0.25.1324


Intel CSTXE 4 Firmware v4.0.26.1334




Intel CSTXE 3.1 Firmware v3.1.76.2356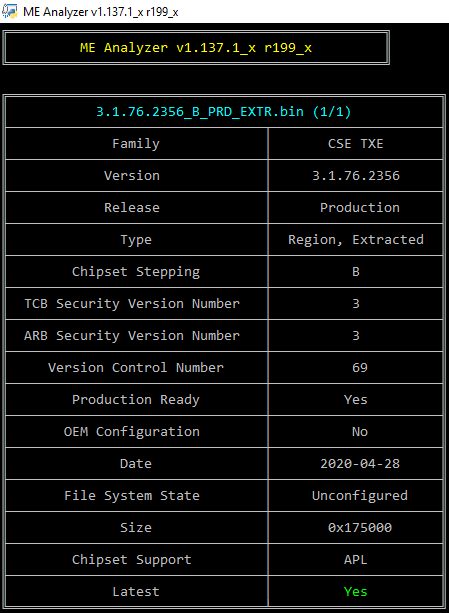 Hi, someone has solution for RSA KEY?

After programming BIOS, Keyboard and Touchpad stop working.

Also i need version of me: 12.0.47.1524 size: 0x2BA000

Laptop: Dell 5482

MB: Bucky/ BenSolo WHL/CNL TVMHG 17859-1

CPU: Intel Core i5 8TH

Someone can help with this region?
Intel CSTXE System Tools v3 r10 - (2020-07-29)
Intel CSTXE 3.1 Firmware v3.1.80.2400




Intel CSTXE System Tools v4 r6 - (2020-10-31)
Intel CSTXE 4 Firmware v4.0.30.1386


Intel TXE System Tools v2 r3 - (2020-12-05)
CSTXE System Tools v3 r12 - (2021-03-31)

Notice that (CS)TXE seems to have been killed off by Intel and merged into (CS)ME. Modern Atom based platforms now run CSME firmware (LKF - CSME 13.30, JSL - CSME 13.50, EHL - CSME 15.40 etc). The current (CS)TXE platforms (BYT, CHT, BSW, APL, BXT, GLK) remain as they are.
I successfully upgraded PiPO-X7s TXE 1.375MB M/D v1.1.1.1120 to TXE 1.375MB M/D v1.1.5.1162. Using FWUpdLcl -f 1.1.5.1162_1.375MB_MD_PRD_RGN.bin command.
I can't figure out. Can I upgrade to TXE 1.2 1.375MB M/D v1.2.1.1161. For sure you can't upgrade to TXE 2.0 1.375MB v2.0.5.3117!

Strange TXEI Driver v2.0.0.1094 (Windows 7, 8, 10) drivers don't work on PiPO-X7s. I checked .inf file and hardware ID is only available in Windows 10 section. Missing for Windows 7 and 8.1 (NT 6.1).
I have found working drivers TXE_Win_64_1.1.5.1162 (Intel® Trusted Execution Engine Interface 2014.01.12 1.1.0.1064) on Intel® Trusted Execution Engine (Intel® TXE) Driver for DN2820FY, DE3815TY site.




Interesting how to upgrade TXE FITC?

I have adjusted Section A for TXE 1 on old Windows OS. Thanks for the feedback.



That doesn't make sense. Please read Section C to understand what Flash Image Tool is.
As I understood Intel Flash Image Tool (FITC, FITc or FITC.exe) is tool which was used to flash BIOS initially? But I updated TXE with FWUpdLcl (Intel Firmware Update Utility Version: 1.1.5.1162). Why info wasn't updated?

What is difference between TXE 1.375MB M/D and TXE 1.375MB I/T?
FIT is a tool, the tool used to build/configure the firmware. It is not something you update, ignore it. TXE 1.2 is technically compatible with 1.1 but it's a different branch which existed for some reason on a very small number of devices. M/D and I/T are different SKUs. You are up to date, nothing more to do.
Tried to upgrade to TXE 1.2 1.375MB M/D v1.2.1.1161 with FWUpdLcl -f 1.2.1.1161_1.375MB_MD_PRD_EXTR.bin without success.
Intel (R) Firmware Update Utility Version: 1.1.5.1162
Copyright (C) 2007 - 2015, Intel Corporation. All rights reserved.
Communication Mode: TXEI
Checking firmware parameters…
Warning: Do not exit the process or power off the machine before the firmware update process ends.
Sending the update image to FW for verification: [ COMPLETE ]
FW Update: [ 15% (Stage: 4 of 17) (/)]
Error 8741: FW Update Failed.

Error 8704: Firmware update operation not initiated due to a SKU mismatch
Is it possible to upgrade with Intel Flash Programming Tool (fptw.exe). Only I don't want to corrupt TXE DATA Region (configuration stuff). Do I gain any benefit? Generally all TXE stuff is one security concern :).
As I said, you are up to date TXE wise, nothing more to do.
CSTXE 4 v4.0.32.1524




CSTXE 3.1 v3.1.86.2538


CSTXE 4 v4.0.40.1600




CSTXE 3.1 v3.1.90.2629


CSTXE 4.0 GLK v4.0.45.1848
CSTXE 3.1 APL v3.1.92.2881