Hello,
It's been a few days now I'm digging into this forum but it seems I need more information and some experienced people here might have an answer

I got from my company 3 decommissioned Sophos SG230 firewall appliances.
With a friend, we had a look at them and were able to do a lot a stuff but we want to extend the possibilities of these appliances. So we had the crazy idea to transform them into hypervisors to, instead of just running a firewall, deploy multiple VM on it.
The motherboard is branded Sophos and the company is not providing a BIOS update.
The current CPU is a Intel Pentium GA3420 (Haswell)
The motherboard is built on the H81 chipset.
We wanted to replace the GA3420 by a Intel i7-4785T (Haswell-R) so we can have 4 cores / 8 HT for the hypervisor and low power consumption as the CPU is a 35W.
Unfortunately, the motherboard doesn't recognize the new cpu.
I've used AFUWIN to extract the rom and after checking it with UBU, I've found that the Microcodes inside were older than the release date of the i7-4785T.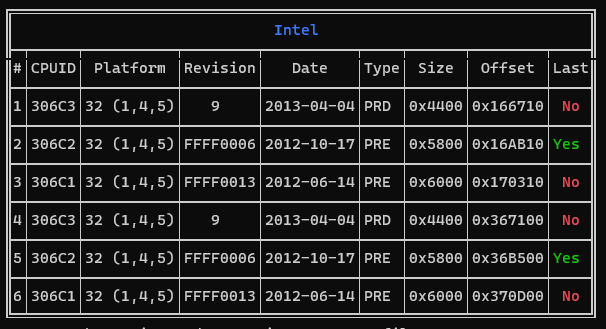 I've used UBU with mmtool to update them to the latest version (28) and flashed the modified rom with AFUWIN but the motherboard still don't recognize the cpu.
Is there something I can check or enabling this cpu is a lost cause?