Source: Station Drivers.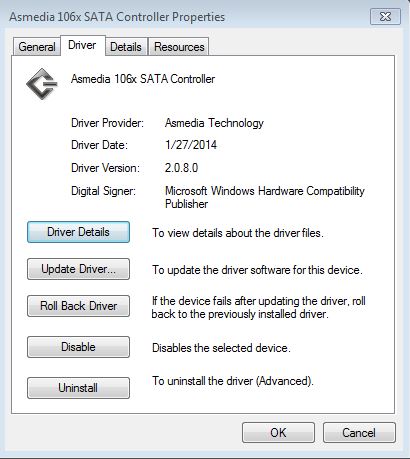 @ Pill Monster:
Thanks for the info.
Meanwhile I have added these new ASMedia 106x SATA3 drivers to the start post of >this< thread.

@ all:
This ASMedia AHCI driver v2.0.8.0 is working fine with my Z77 system running Win8.1 x64.
Note:
After having replaced the generic MS AHCI driver by this new ASMedia driver users will realize, that the related Controller will not be shown anymore within the "IDE ATA/ATAPI Controllers" section of the Device Manager. This is nothing to worry about, The Controller is now listed within the "Storage Controllers" section:


In my testing, the 2.0.8.0 or 2.0.8.1 drivers don't pass the TRIM command to a SSD. The previous driver ver 1.4.1.0 do pass the TRIM.
Also, performance-wise there is no difference between them.
That is an interesting find.
Thanks for your feedback!