Hi,
My laptop is an ASUS R500VD, is shutting down every 30 min exactly since fews days ago, and it won't boot to BIOS (I tried both methods: by windows or keyboard at start).
Motherboard: ASUS K55VD
Intel HM76 (Panther Point)
BIOS: K55VD.305 - 06/13/2012
CPU: Intel Core i7 - 3610QE
ME version: 8.0.2.1410
I am now under Windows 10 (originally Windows 7).
I tried to follow this guide, to re-initialize the ME data, but I was unable to achieve it.
I don't know how to be able to flash the dumpted ME image because the command FPT -f give the error: "could not communicate with the HECI". (I was able to dump it without error).
MEinfo gives me an error too. I send you the result of FPT -i command.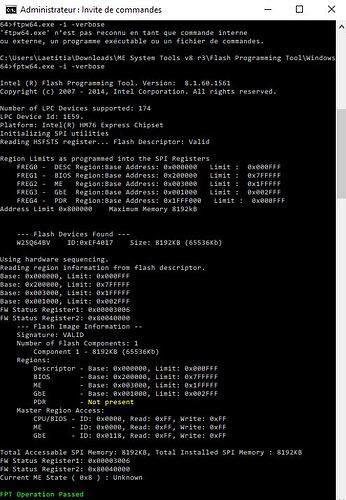 I don't know if I have to update the BIOS first, or if there is an other way to fix this problem.
Thanks for the help!