Hello All! I Just Discovered this awesome forum following my desire to upgrade my system with a PCIe SSD to boot win10pro from it while hitting the bump of my somewhat dated main-board.

I read all your excellent guides and following your detailed instructions, i managed not only to add the NVME support from an other thread here, but i also heated up to modify and upgrade all bios module drivers, ME, LAN, RSTe, Marvel and CPU microcode.
And successfully flash it to the main-board without any immediate problems (or problems that i can immediately understand) whatsoever. System running stable with the below configuration (signature).

I am posting the F20 bios as i extracted it from motherboard and then the modded one that i flashed in the main-board. Can you please tell me if the driver versions i choose are the best options for my specific main-board and chip-set? or should i choose to remod with more optimized ones (different driver module versions)? I read a lot your threads here and given that i am not so far advanced, i am at a little loss.
Any help-opinion will be greatly appreciated.

This was the unmodified Bios F20: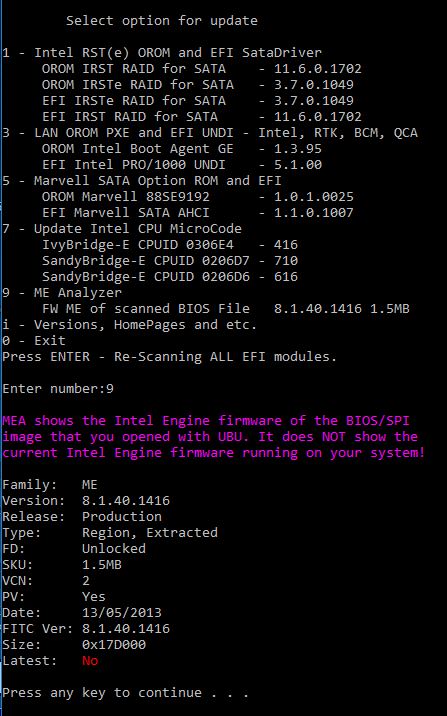 And this is the Modified With ME,Clover NVME,LAN PXE & EFI ,RSTe OROM & EFI ,MARVEL SATA , CPU Microcode Update:
I hope the various device versions used are ok but i would like an opinion for all,
My main concern is with the RSTe OROM And EFI Versions:
Are those the right ones for the chipset or can i use v4.5 for IRSTe? which one for best optimized performance?
On RST v15 is ok or should i downgrade? and to which one version for best optimized performance?
And Finally given the version that will be finally used for bios driver modules, which software versions of IME and IRSTe are best paired with the module versions for optimal performance and stability on this board-chipset?
Thanks in advance! Grate Job you are doing here hope i had discovered you earlier!!