Hello, I need help updating brand new, Asus A320M-K Prime BIOS to be able to use a new Ryzen 5 4600G, I do not have an older generation compatible CPU to boot and update from uefi EZ Flash utility.
According to Asus CPU support for this board, a Ryzen 5 4600G is supported or validated since BIOS Ver. 5862 so I downloaded latest version 6402…
I connected my CH341A (Green) programmer with 1.8V adapter to the board.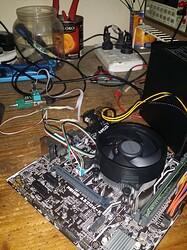 I identified pins as follows…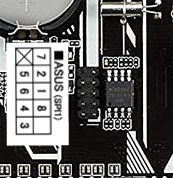 Then I fired up NeoProgrammer V2.2.0.10, identified chip as Gigadevice GD25LQ128C [1.8V] and read data successfully and saved backup…
OK so then I opened the updated BIOS CAP with UEFITool NE Alpha 59 , then - right-click onto the listed "AMI Aptio capsule", choose the option "Extract body…" and save it as *.ROM file. (File size 16,384 KB)
I then erased and verified blank chip with NeoProgrammer successfuly, then opened new *.ROM file and flashed, Successfully… I removed programmer cables, installed CPU and powered up…


It didn´t POST, boot or display anything (Fans running)
I also have tried with no luck, manually editing *.CAP file with HxD and removing first 2048 bytes and saving as *.ROM, I also tried Asus CAP to Bin Tool to create *.ROM file, I tried flashing with CH341 programmer original soft, with AsProgrammer I even flashed with Flashrom for windows, in all cases no errors where displayed… yet Mother Board refuses to POST…
SOOO! What am I doing wrong!
what is the proper way to do it…
Any help would be greatly appreciated…
Link to latest Asus A320M-K BIOS Download
P.S please excuse my English, it is not my native tongue…