I HAVE LAPTON PROBOOK 650 GI
CORE I5
PCI\VEN_8086&DEV_9D03&SUBSYS_80FD103C&REV_21
IASTORA 14.8.8.1052
I TRAED TO INSTAIL XP BUT CANT

CAN HELP >>
@bbenoit2006 :
Welcome to the Win-RAID Forum!

If you want to install Windows XP onto your modern Intel chipset system, you should read the start post of >this< thread and follow the related instructions.
By the way: Please stop writing everything in capital letters. It is not good for the reader's eyes.

Regards
Dieter (alias Fernando)
Be aware that HP does not offer XP-drivers for that laptop!

HP 650 G2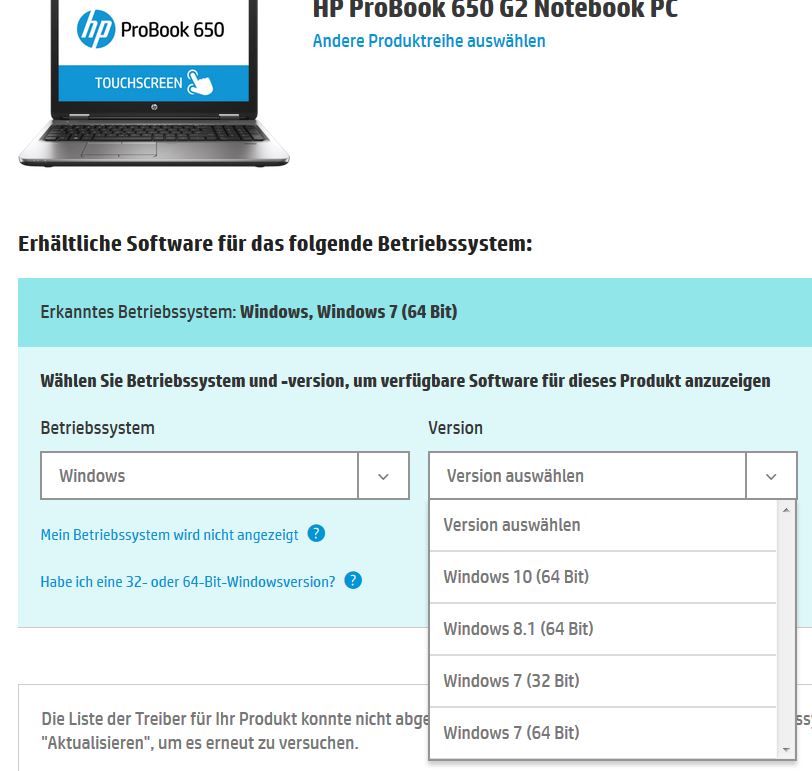 Hallo Dieter, schönes Wochenende!
thanks bro
but which drive compatable with my labtop
I don't understand, what you mean.
How should I know, which drive is compatible with your laptop?
Or do you mean, which driver? If yes, the mod+signed Intel RST driver v11.2.0.1006 should work with your HP Probook. Look for the HardwareIDs of the on-board Intel SATA AHCI Controller. For more informations look into the start post of the thread , which I have already linked in my previous post.
yes i mean driver sorry for my week engilsh

but i try it wont work fin also ??

i choose single file and next time multi drive wont work
@bbenoit2006 :
To be sure, which Intel SATA AHCI Controller model is within your notebook (that is the one you have to choose while integrating the mod+signed Intel RST driver v11.2.0.1006), you have to check the HardwareIDs of your on-board Intel SATA Controller.
This is the way to do it:
1. Boot into any Windows OS of your notebook.
2. Run the Device Manager and open (expand) the section "IDE ATA/ATAPI Controller".
3. Right-click onto the listed Controller with the word "AHCI"in it and choose the options "Properties" > "Details" > "Property" > "HardwareIDs".
4. Search for the VendorID (VEN_XXXX). It has to be VEN_8086 (=Intel).
5. Then search for the most important DeviceID (DEV_XXXX). Write the exact DeviceID onto a paper.

After having done that, repeat the integration of the Intel AHCI driver into the XP image from scratch by using a clean (=untouched) XP SP3 CD as source and without overtaking any presets, when you are starting nLite.
Most important step:
When nLite is starting the driver integration, use the "Single driver" option and navigate to the mod+signed Intel RST driver folder.
The you will get a popup window with a lot of listed Intel SATA AHCI and RAID Controller names.
Highlight just the 1 device, which has exactly the same DeviceID at the end of its name as the one you have noticed before.

Good luck!
thanks for your replay and i glad for your respond
sorry i am tired you

i am find and check the HardwareIDs is ----
PCI\VEN_8086&DEV_9D03&SUBSYS_80FD103C&REV_21
PCI\VEN_8086&DEV_9D03&SUBSYS_80FD103C
PCI\VEN_8086&DEV_9D03&CC_010601
PCI\VEN_8086&DEV_9D03&CC_0106

and i run nlite and choose single file from–
Universal 32bit Intel RST AHCI+RAID driver v11.2.0.1006 mod+signed by Fernando
and choose iaStor.inf and choose from it - intel(R) SATA AHCI Controller DEV_9D03 add by Fernando

thats right bro ???
where the problem
thanks bro very very thank for you help
solved problem was usb flash when i burned cd work

where can i find definitions of my laptob ( sound,vga,lan …chip )
You should have chosen the INF file named iaAHCI.inf (the file iaStor.inf supports only Intel SATA RAID Controllers.
Everything else was ok.

Within the Device Manager of any Windows OS or by using a tool like Aida or HWInfo, but this question has nothing to do with the topic of this thread.
Did you expect, that Windows XP supports USB 3.0 Controllers?
@bbenoit2006 :
You have either to use USB 2.0 or PS/2 ports (if available).
Please look into the other threads of this Subforum.
i am still stuck on start install xp screen no keyboard work
What about using an Operating System, which supports the modern hardware of your system?
Another option: Buy/get an old computer, which is natively supported by Windows XP.
ther is no way to work

okay thanks
Wating For Good News

Cant Give Up