Hi


then
I have done the backups with ATI2014, in january 2015 then in may the computer crashed and everything looked bad, wasnt sure I would get the raid rebuilt since I got two or more drives from the raid10 with 4 hdds, many was seen as NON MEMBERS and the raid wasnt seen at all.
I changed cables and took apart whole computer, flashed the normal bios to latest and changed CMOS battery.

Fast Forward >> >>

now

I got my raid rebuilt and but was booting from it and after every reboot or shutdown the raid showed "SMART Verify Failed" on two drives (have changed the two to other sata-ports but get message on random sata-ports)
I connected the ssd to the Rocket 622 sata-card (pcie) and booting from ssd with win81(64-bit).

Every time I reboot/shutdown I still get that message and have to rebuild raid for 1-10 hours.
I havent lost any data, the harddisks are fine.
The computer is now stable and I have done backups.


I dont know what is wrong with the computer.
Q1: could it be the OROM that somehow got corrupted?

Intel  ICH9R - OROM 7.5.0.1017
Intel Matr

i

x Storage Manager 8.9.0.1023 (IMSM) with volume c:128GB,  d:1.7TB
I havent flashed the OROM but is it possbile that the computer somehow got it corrupted?
Is it possible to verify the OROM?
Q2: could it be the motherboard that somehow got bad?
Q3: could it be the powersupply?
…
I could go on and on but Im asking on here, win-raid, and the first question, Q1
history
Have downloaded the latest IRST but after reading about alot of problems I haven't installed it yet and not running Win 8.1 64-bit more than a few times a month since november 2013 and installed a backup program TrueImage 2014. I will do a backup when the OS is stable with a good raid driver.
There are much more but I leave that for later.
Computer information
G
igabyte
P35
-DQ6 - rev 1.0, F7 bios
I
ntel Q6600 G0 - 2.4 @ 3.200 Ghz, 400x8, Vcore 1.300V (Kentsfield)
ThermalRight Ultra
E
X
TREME
120 +
N
o
ctua
NF-P12 120mm fan
Corsair XMS DDR2 PC6400 5-5-5-18 2 x 2x2048 8GB kit @ 800MHz +( default )V in bios
Corsair HX-620W PSU | mb:Realtek HD audio 7.1 mb
I
ntel ICH9R -
OROM 7.5.0.1017I
ntel
Matr
i
x
Storage Manager
8.9.0.1023
(IMSM) with volume c:128GB, d:1.7TB
SATA:
0-3:
4x1TB Samsung Spinpoint
F3
in
RAID 10
, 64k stripe
nonraid SATA:
4:
250 GB Samsung SSD 840 EVO,
5:
1TB Samsung Spinpoint
F3G
igabyte SATA2/Jmicron -
OROM 1.06.59
nonraid SATA:
0:
1TB Samsung Spinpoint
F1
1:
usb3:Silverstone EC04P- (1x-pcie)
nonraid SATA:
R
ocket 620 (4x-pcie)
0:
1:
MSI Geforce 780 3 GB Twin FrozR Gaming (16x-pcie)
27" QNIX 2710LED
@96Hz
PLS 2560x1440 | case1:
CM
Stacker
T01
OS: 1:Windows XP Pro, 2:64-bit 3:Win 8.1 64-bit
VMware7: 2a:Win 7 64-bit, 2b:Win XP Pro
Boot order
1…
0:
WinXP-1TB,
0:
Win64-R10,
0:
wProg-R10,
5:
PS R10-SP,
4:
Win8.1-SSD
2…
0:
Win64-R10,
0:
wProg-R10,
5:
PS R10-SP,
4:
Win8.1-SSD,
0:
WinXP-1TB
3…
4:
Win8.1-SSD,
0:
Win64-R10,
0:
wProg-R10,
5:
PS R10-SP,
0:
WinXP-1TB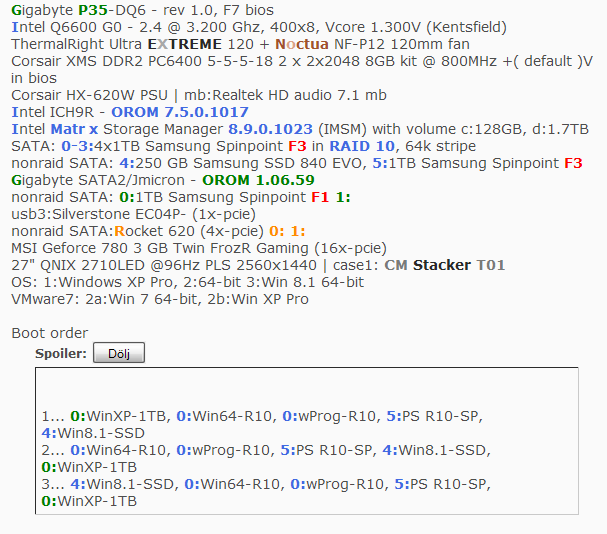 Gigabyte… green
,
Intel… blue
,
Highpoint Rocket… orange
,
Samsung Spinpoint… red