I have a few of these land in my lap - I an trying to run unraid / freeNAS / Xpenology on them.
the Bios is Super Bare - I was wondering of "all the settings" could be unlocked to control the fans/VT-D and IOMMM

I know my account is new - I am also seaching how I'd do this myself.

attached is a few pictures of settings and whatnot - I will be pulling the Bios here in a bit; and attaching.

EDIT : bios screenshot added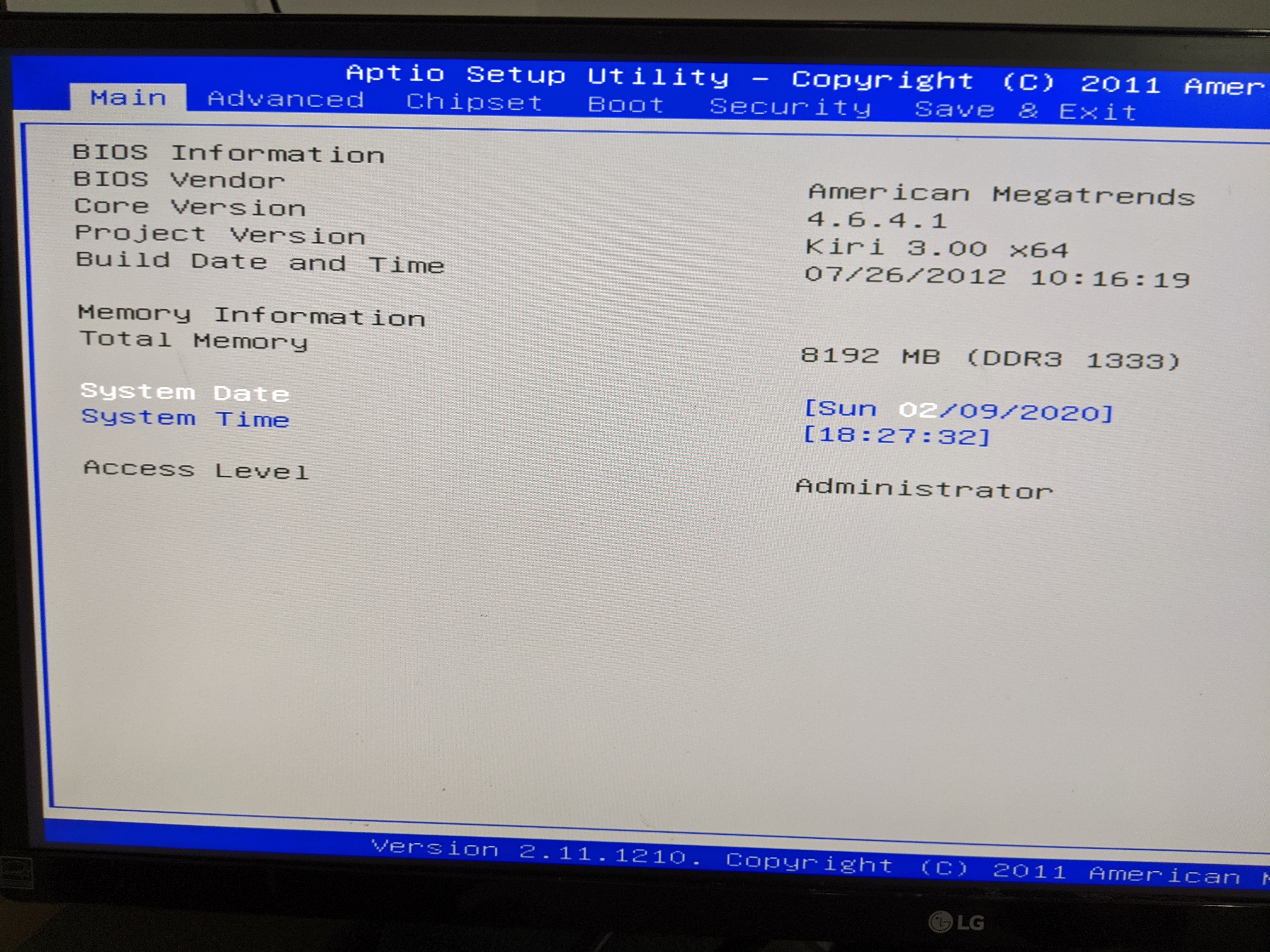 EDIT2 : took forever but - life - bios is attached; I am going to read about "modding" this bios now.


1
2
3
4
5
6
7
8
9
10
11
12
13
14
15
16
17
18
19
20
21
22
23
24
25
26
27
28
29
30
31
32
33
34
35
36
37
38
39
40
41
42
 
drache@drache-Kiri:~$ sudo dmidecode -t bios
# dmidecode 3.2
Getting SMBIOS data from sysfs.
SMBIOS 2.7 present.
 
Handle 0x0000, DMI type 0, 24 bytes
BIOS Information
        Vendor: American Megatrends Inc.
        Version: Kiri 3.00
        Release Date: 07/26/2012
        Address: 0xF0000
        Runtime Size: 64 kB
        ROM Size: 1024 kB
        Characteristics:
                PCI is supported
                BIOS is upgradeable
                BIOS shadowing is allowed
                Boot from CD is supported
                Selectable boot is supported
                BIOS ROM is socketed
                EDD is supported
                5.25"/1.2 MB floppy services are supported (int 13h)
                3.5"/720 kB floppy services are supported (int 13h)
                3.5"/2.88 MB floppy services are supported (int 13h)
                Print screen service is supported (int 5h)
                8042 keyboard services are supported (int 9h)
                Serial services are supported (int 14h)
                Printer services are supported (int 17h)
                ACPI is supported
                USB legacy is supported
                BIOS boot specification is supported
                Targeted content distribution is supported
                UEFI is supported
        BIOS Revision: 4.6
 
Handle 0x006A, DMI type 13, 22 bytes
BIOS Language Information
        Language Description Format: Long
        Installable Languages: 1
                en|US|iso8859-1
        Currently Installed Language: en|US|iso8859-1