Hello everyone, I'm new here and I have really found a lot of useful information within this forum, especially @Lost_N_BIOS ' guides and answers, but sadly it seems that at this point I have to reach out for help:
My MOTHERBOARD is a GIGABYTE GA-H110M-S2H v.1 DDR4
NOTE: It seems that I can't post links, so please just add " https:// " before the second half of the link. Thanks.

Quick flashback:
Around 15 days ago I got notified that a pending Firmware update was available. Update finished and got asked for a reboot. Once rebooted I briefly saw the GIGABYTE logo but then disappeared shortly after, monitor turned off and fans kept spinning. 3 hours later nothing had changed. Somehow my BIOS got bricked.

Here's more detail about all my troubleshooting tests, including a video, if anyone is interested, but frankly this is old stuff by now… (link): reddit.com/r/pchelp/comments/rjta5w/corrupted_bios_bench_test_unsuccessful/

Yesterday I finally got a BLUE EDITION CH341A Programmer and a CHIP CLIP.
I successfully extracted the CORRUPTED bios .bin file, attached here (link): mediafire.com/file/6epgcpwo6b1czha/corrupt11.Bin/file
I was hoping to be able to find my MAC address and my MOBO's serial number location within the corrupted BIOS file but I can't find anything using a HEX editor.

I have attached a screenshot, comparing a freshly downloaded BIOS update file (v.F25) from the official website, with the CORRUPTED BIOS file. As you can see, the location where the MAC address should supposedly be is not-existent within the corrupted BIOS file. Couldn't find it using the Search option. I have no idea on how I should input my MAC address on the fresh file because I have no reference.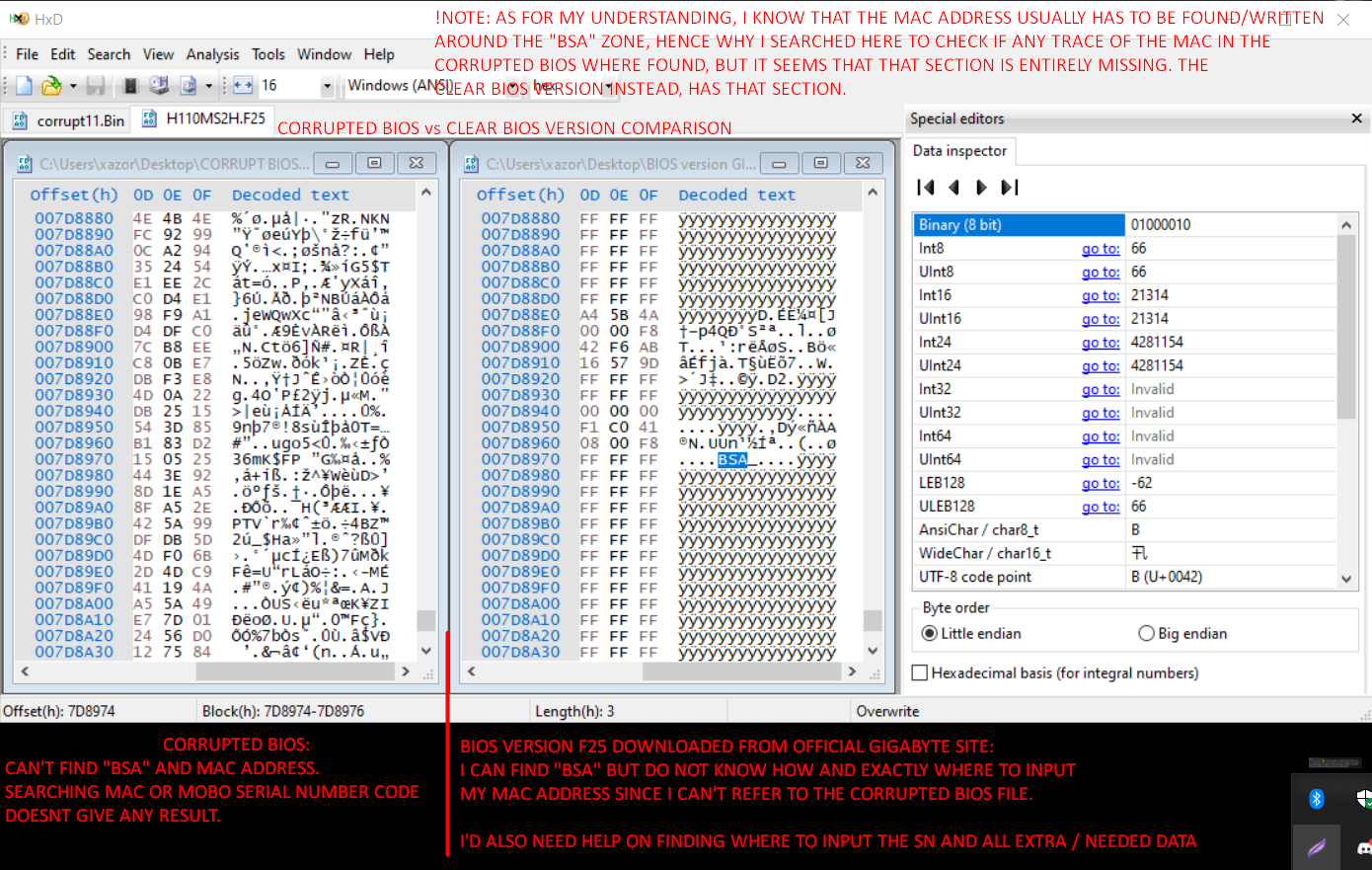 I do not know which BIOS version I was running before, however I already know both my MAC address and Mobo's SN thanks to the external labels.
Here's a .txt document with the codes (link): mediafire.com/file/5olofj9v0heg21z/MAC_and_SN.txt/file

I'd like to input my MAC and SN and all related/needed additional info, in the freshly downloaded BIOS update file from the official GIGABYTE site, using a HEX editor. The issue is that I do not know the location where I have to insert them since I can't even refer to the old BIOS.

If someone with more experience would like to insert the needed data in a clear official BIOS version for me instead, that would be really helpful!
Here's the official GIGABYTE website, including all available and downloadable BIOS versions (link): gigabyte.com/Motherboard/GA-H110M-S2H-rev-10/support#support-dl-bios
The version that I want to flash into the BIOS chip is the F25. But if there are issues I could also use any other version as long as it works.

Any help would be immensely appreciated!


Edit by Fernando: Unneeded blank lines removed and inserted picture resized to save space (the picture can be enlarged by clicking onto it)