Hello there!!! Hopefully you guys can help me with this issue… Basically I have very very poor 4K performance with my 250 GB Samsung 840 SSD… As well as a slower performance in general… I'm running Win 8.1 Pro (x64) Installed in UEFI Mode (I think) I used a GPT FAT 32 formatted USB 3.0 memory stick (ADATA S102 Pro 8 GB) Win 8.1 setup created 3 Partitions:
1: Recovery = 300 MB
2: EFI = 100 MB
3: MSR = 128 MB
+4: C:\OS = 99.4 GB
+5 D:\DATA = 109 GB
+10% Over Provisioning = 23.29 GB
I've checked in MsInfo32 as well as Partition Master, Aida64 and Samsung Magician and I have a Starting Offset of 1 MB… Here is a screenshot of a benchmark using AS SSD:



And I have noticed that Aida64 shows these highlighted areas of interest (48-Bit LBA, 512 byte sectors, 63 sectors/track, UDMA 5 which changes to UDMA 6 after sleep state wake up)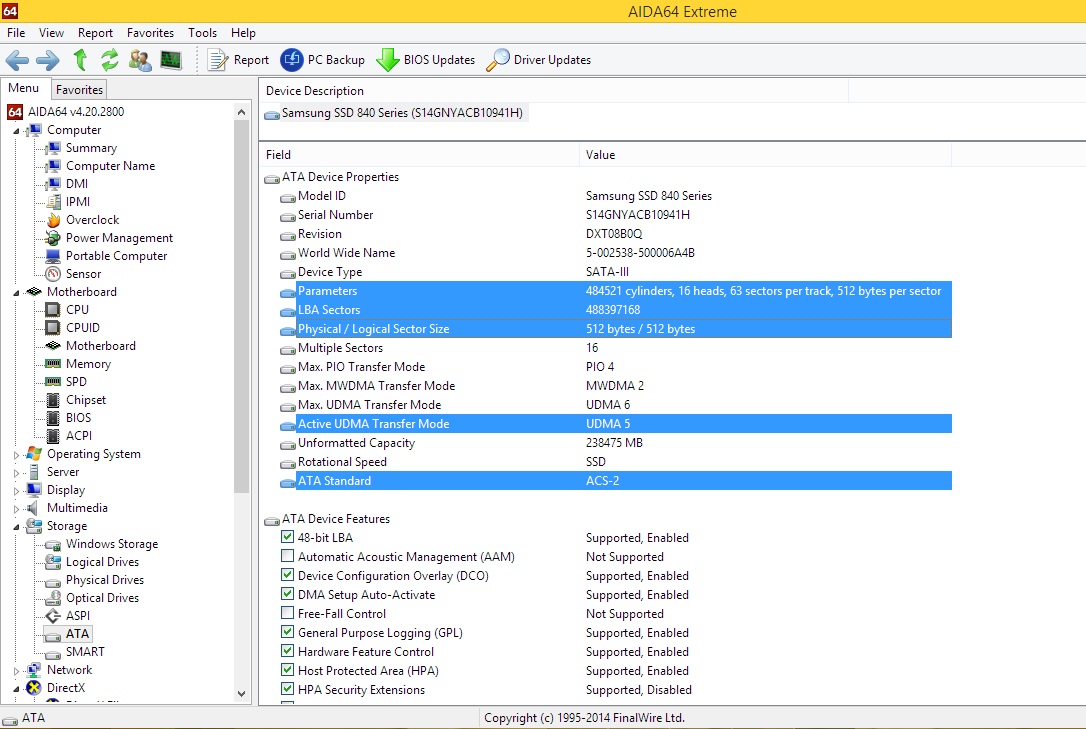 From what I understand those settings are for HDD's… correct??? I can't seem to figure out this problem… Also strangly if I set the "Power Mode" to "Power Saving" I get double 4K 64Thd rates… Up to 650 MB/s Read Speeds… But overall I'm not getting the speeds I'm supposed to be getting… The Wear Level increases tooooo FAST!!! I have 6 months with this SSD and I'm at 27% Wear!!! All I have done is use Secure Erase from Samsung Magician ONCE about 3 Months ago when I decided to leave Win 7 behind and give Win 8.1 a try… Hope you guys can help me out a bit with this!!! THX in advance!!!