Hello -

I have an ASRock J3355M board which has Aptio V BIOS. My objective is to enable "Above 4G Decoding" under the "PCI Subsystem" menu in BIOS.

Problem: PCI Subsystem menu is not visible, so I cannot access this feature.

I am a complete novice at BIOS modding, but here is what I have done so far.

In AMIBCP 5.02, I have found the "PCI Subsystem" menu exists, but is not referenced from the "Setup" menu (so is not accessible in Setup).

I was able to use MMTool to dump out the "Setup" and "PciDynamicSetup" UEFI files, and use IFR Extractor Tool on them.

- By reading IFR Extractor output for PciDynamicSetup, I can see desired "Above 4G Decoding" menu option.
- By reading IFR Extractor output for Setup, I can see that it corresponds to what I can see in Setup menu (and as expected no link to PCI Subsystem menu).

Somehow I need to link the PciDynamicSetup form into the Setup menu form… but I am not quite sure how to do it. I think it would naturally go in "Advanced" section, but am not particular about where it shows up as long as I can access it.

One guide I read suggested hex editing AMITSE UEFI file to add it in place of a null entry for the top-level menu. But I cannot locate AMITSE in my BIOS. So that will not work. Additionally my setup uses some GUI so not sure how it would render (perhaps this is why I cannot locate AMITSE?).

I am wondering if there is another place to create the link (or perhaps I could modify Setup menu somehow to point to his hidden PCI subsystem menu).

Attaching some screenshots of AMIBCP, IFR text dumps, and original unmodded BIOS in hopes that someone can help.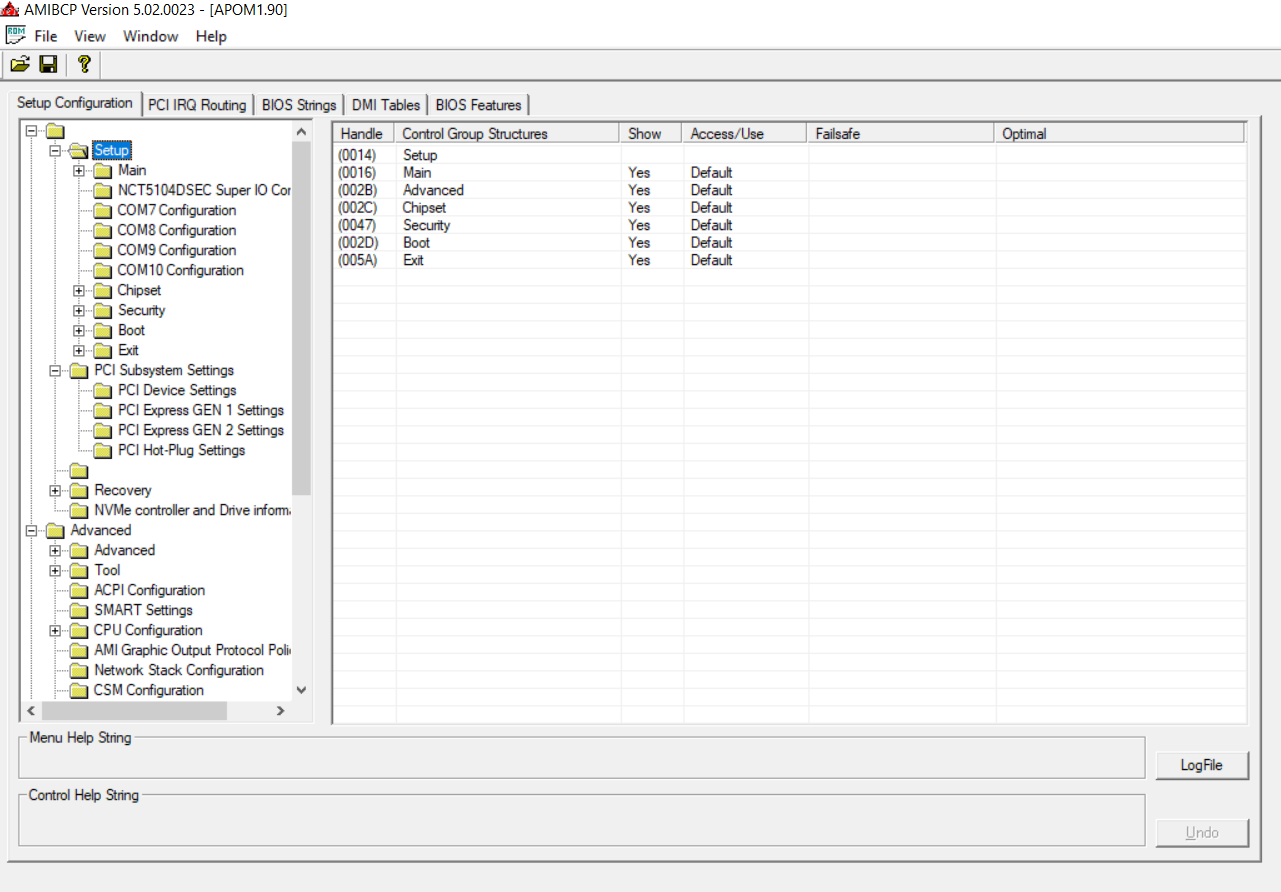 pciDynamicSetup IFR.txt (5.28 KB)
setup IFR.txt (18.2 KB)
J3355M(1.90)ROM.zip (4.78 MB)