Thanks to the work of K4Sum1, such AMD Radeon hardware like Stoney Ridge now support Windows Vista with its graphics driver. To set up Vista, just burn a Vista ISO (needs to have all the updates so you can install Extended Kernel afterwards) with Rufus under MBR, Legacy, mode (UEFI mode does not work). Plug the USB drive into the USB 2 port, set the BIOS to Legacy Mode, turn off Advanced Touchpad (Basic Mode), and then install away.
Following this, if you have all the updates integrated into the iso, you will then need to install the Extended Kernel, as made by Win32 over at MSFN. After this, the modded graphics driver can be installed, however, it is not quite yet available. I am just a Beta tester and so I am using this thread, for now, to show off the Aero Glass theme running alongside Winver, CPU-Z, and System Properties.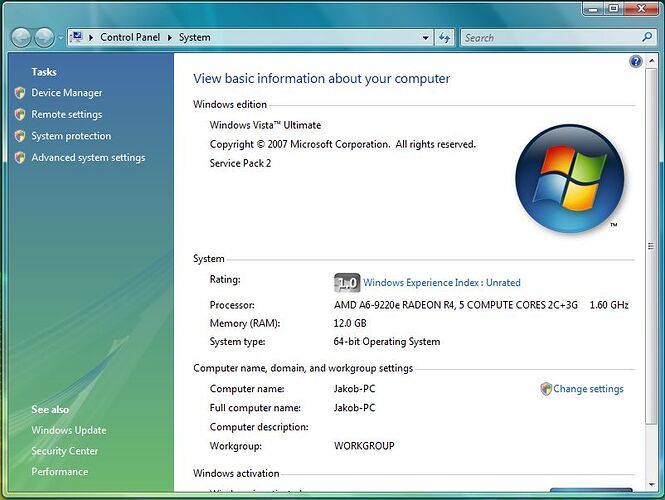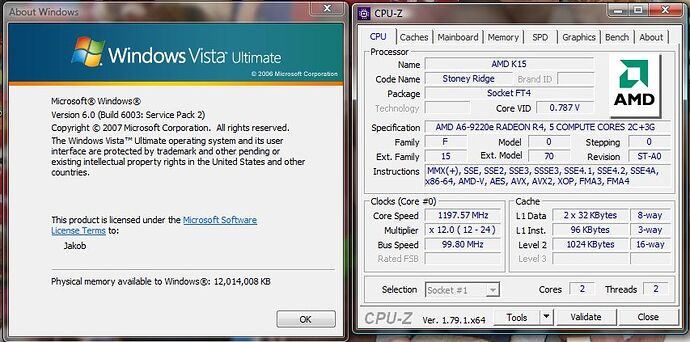 Winver is shown so you guys don't call me out for the OS actually being Windows 7, but with a Windows Vista theme, lol. Believe me, this is not Windows 7 with a Vista theme, but authentic Windows Vista! This just blew the Vista compatibility vault wide-opened as laptops from 2019 will soon be compatible on a much larger basis real soon!
Also, the hardware for these AMD computers should come with Realtek Ethernet/Audio and either Synaptics or Elantech touchpad, all of which still support Vista. For WiFi, you'll either need to swap out the card for a Vista capable one, use the Ethernet port, or get a USB WiFi adapter.