I'm also interested in this. I think it's possible even on older chipsets, but how?
PDEP/PEXT is available all the way down to Haswell, this would be incredible if we could get a BIOS mod for this or for UBUTool to have it @SoniX
That would be really great. Hopefully somebody figures out how to do that.
Bump, this would be really great if someone found out it was possible.
we need rBAR on Haswell(+)

I'm also looking forward to know if it's possible on x299.
MSI MPG Z390 GAMING PLUS has just had a new BIOS released (7B51v1D);

It has begun!

[Edit] Location in AMIBCP;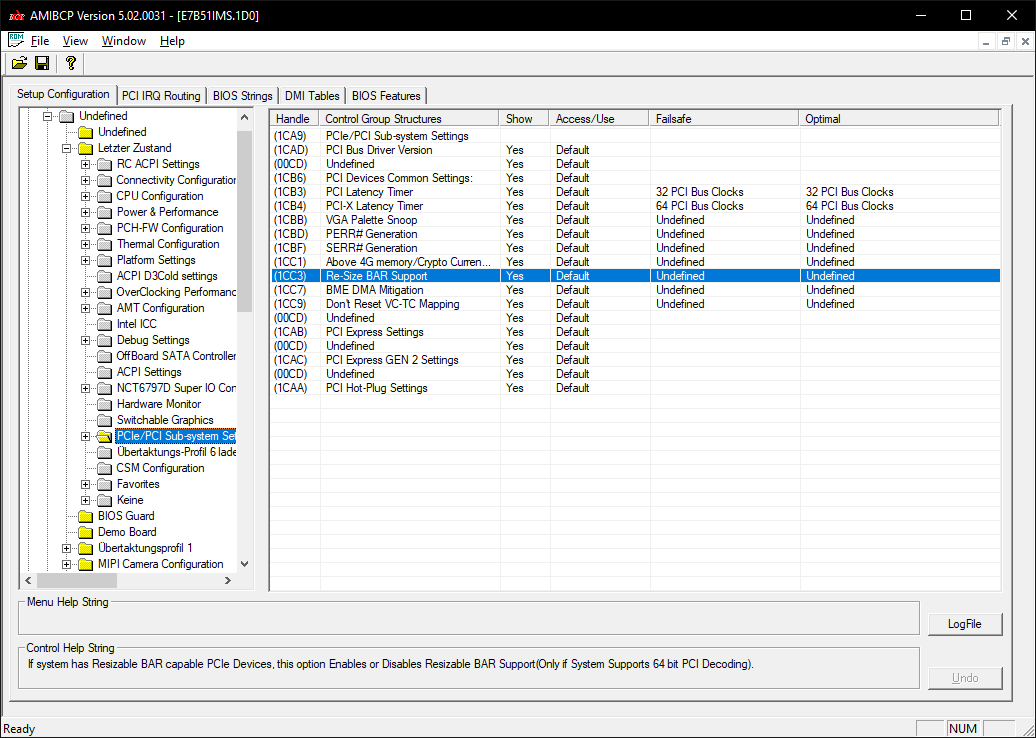 This MSI web page lists Intel 300 series chipsets that are all 14nm, no mention if 22nm chipsets are compatible.

[Edit2] ASRock have also supplied a C.A.M. (Clever Access Memory) Beta BIOS for the Phantom Gaming 4 Z390 (link to reddit and Beta BIOS 4.40H).

Location in AMIBCP;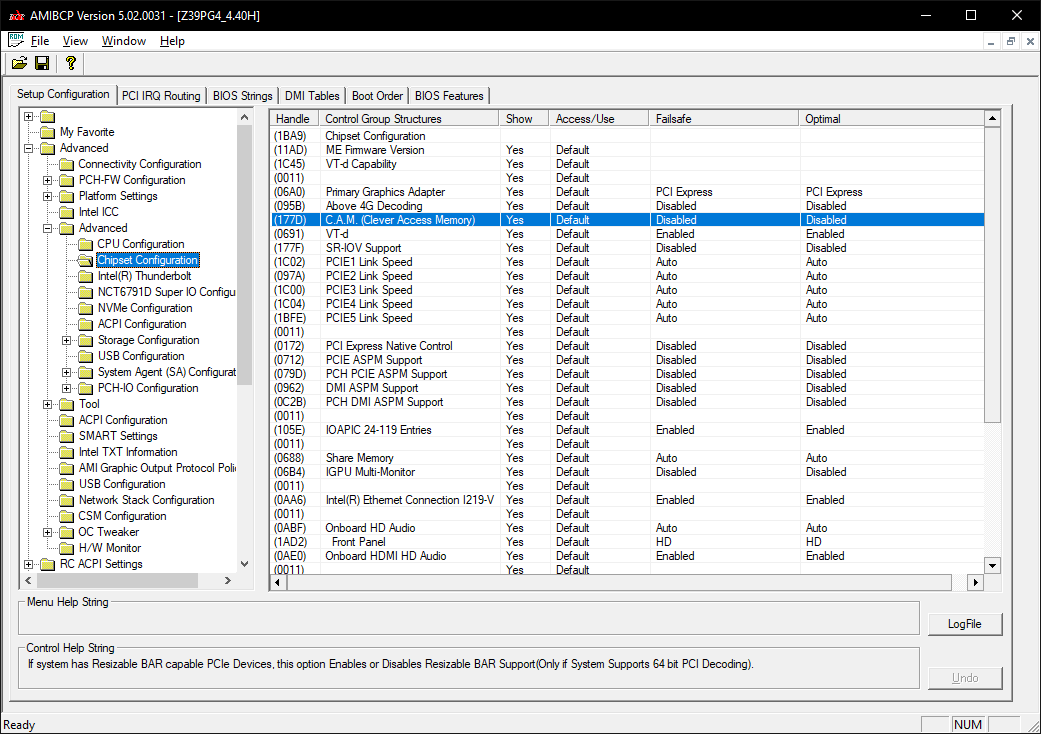 @pepeo Yes, you are correct! I just downloaded Beta BIOS F10k for my Z390 UD (although it is not listed on the Z390 UD product support page yet) and it has "Re-Size BAR Support";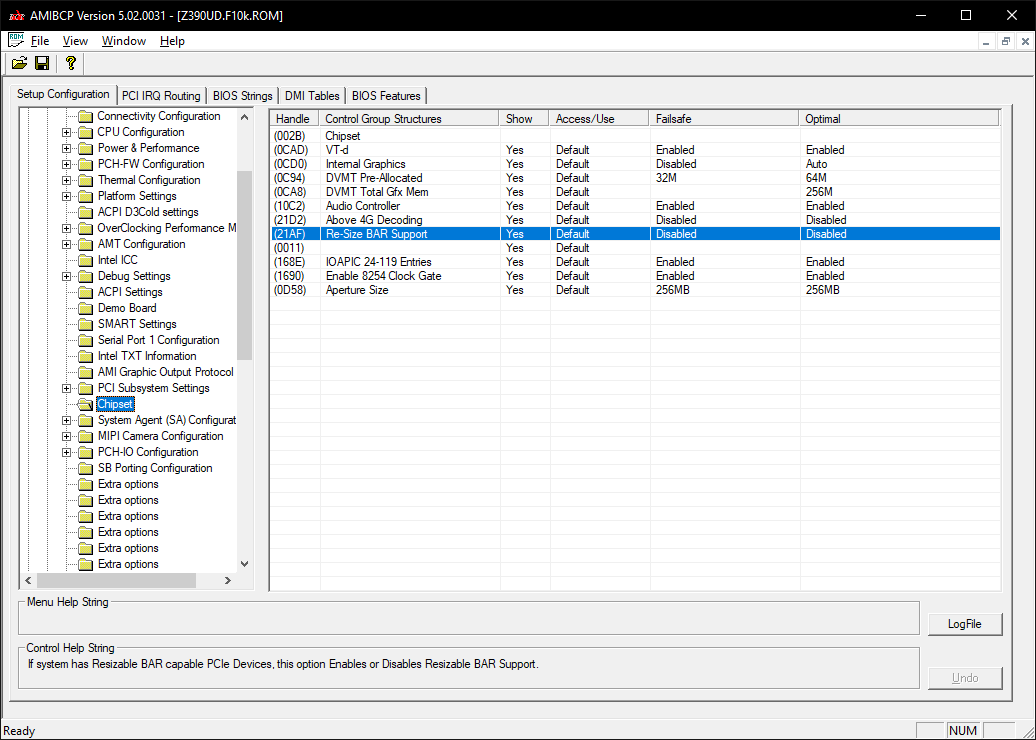 Bump…would love to see someone figure this out.
EVGA released BIOS/UEFI with Re-Size BAR Support for x299 boards recently.
In ASUS forum some user modded himself (can't post link).
If X299 is possible, than Z370, Z270, Z170, H270, B365, B250 and H310A/C will be physical SAMable as well, but that was to be expected as H410 and B460 use the same silicon (Union Point). Likely Sunrise Point (H110, B150, H170, Z170) can use the same code, so if anyone manages to transplant it, I want to see this implemented in the next CoffeeTime release.


Haswell I/O-Hubs however do use quite a different technology. If it is purely a CPU setting, it should still work, but as I have not yet seen rBAR-on-CPU-only switches, PCH specific support might be included and Z87/Z97 do even use a different processor architecture for running IME & Co.

already in my Z10 board "above 4g decoding"
From what I understood "above 4G decoding" isn't the same feature merely prerequisite for it. Would be great if someone could test that. I can't since i have "above 4G decoding" capable Z170 board but not compatible GPU.
Nothing to do with it, and its a not a simple mod required, chipset has as word to say on the subject and dont excepct advances on the subject.
Above 4G decoding enables you to address the entire GPU memory in BAR, but it does not allow Resizable transmitting units to be negotiated between system and GPU. So even though all memory can be addressed, we require negotiation capability to allow the system to go beyond PCIe2.0 transmission limits.

This should have been implemented on every motherboard since Haswell, but they didn't as it was an optional PCIe3.0 feature.

EDIT: Grammar
Will not be possible in anyway in old systems due to chipset architecture and internal protocol negotiation, at least below 300 Series, even with an recent UEFI GOP enable/PCIe 4.0 GPU, period!