Hi guys,

I am trying to unlock ME region for SPI dumping via FPT on Dell Precision M4600

I've read the Guide on Unlocking Intel Flash Descriptor Read/Write Access Permissions for SPI Servicing, used UEFITool+IRFExtractor to find and extract the "SetupPrep" section and found that my BIOS image (A01) has the hidden menu called "Debug" with the following options:




Apparently, there is an option to remove write protection from re-flash via SPI "Intel AMT SPI Protected" at 0x1E9 which I would like to try.

However, when I load into the EFI Shell provided in the attachment of the "Guide on Unlocking Intel Flash Descriptor" thread (Setup_EFI_Shell.rar), I receive the warning/error when I try to use setup_var:




Booting into Windows 7 (UEFI) and the ME region is still locked for read and write.

As I noticed, the EFI Shell is configured for some different GUID and string called 'Setup', while in my case it's 'SetupPrep' with a GUID 899407D7-99FE-43D8-9A21-79EC328CAC21

I also noticed that despite of the error, the 0x1E9 var was set to 0x01 initially, which may mean it's a correct variable.

Any suggestions on how to get or make a correct EFI shell for this case, or maybe a method to access the hidden "Debug" menu directly?


I am attaching the BIOS dump made with FPT that contains that menu. Also its extracted IRF version. Also attaching the dumped FD just in case.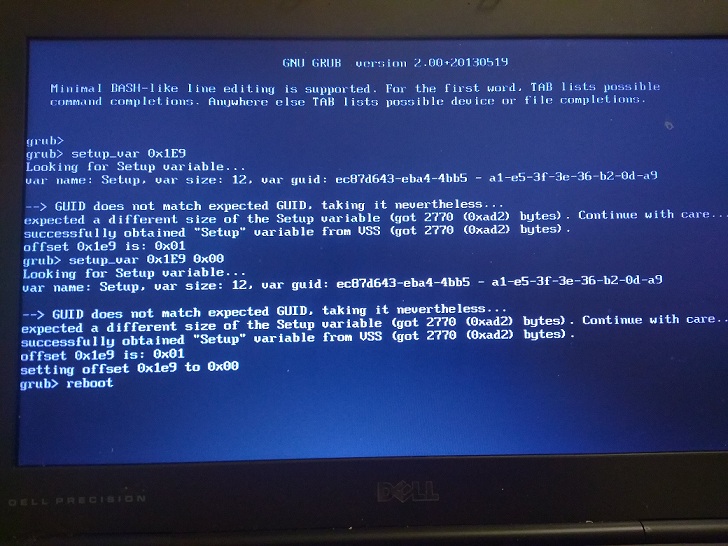 M4600_BIOS_A01_SetupPrep_extracted.txt (342 KB)
M4600_BIOS_A01_FPTdumps.zip (1.81 MB)