Hello!
One day my Dell 7040m couldn't resolve DNS on the integrated NIC (but ping/SSH/streaming locally stored movies to other machines on LAN worked) and after a lot of troubleshooting I gave up and wanted to reinstall Ubuntu. The issue persisted to the installer itself and the same behavior is seen on Manjaro and Windows 10 as well. Before booting to any OS it shows the following errors in the upper left corner:
(A7) Me FW Downgrade - Request MeSpilock Failed
ME FW Update Failed, please try again!
Error sending End of Post message to ME: HECI disabled, proceeding with boot!
I tried a USB to Ethernet adapter with which DNS works, so I concluded the problem might be with the bios and tried updating it but I saw the following error:
ME Firmware Update Failed: Image Loading
But after this, it also displayed "Firmware Update successful. Rebooting your system." in green, I assume the bios got updated but the ME didn't. I repeated the bios update with the motherboard jumper in service mode with the same outcome.
After searching a bit I found this post on the forum and started doing steps posted by plutomaniac. The dumped bios(using fptw64 -d spi.bin) in MEAnalyzer seems healthy:

Found a matching CSME from the repository: 11.8.92.4222_COR_H_DA_PRD_RGN.bin
But when I get to the 6th point in D4. CSME 11 - 15 & CSTXE 3 - 4, where I need to drag and drop the dumped BIOS, I am faced with the following error in FIT, which I couldn't resolve: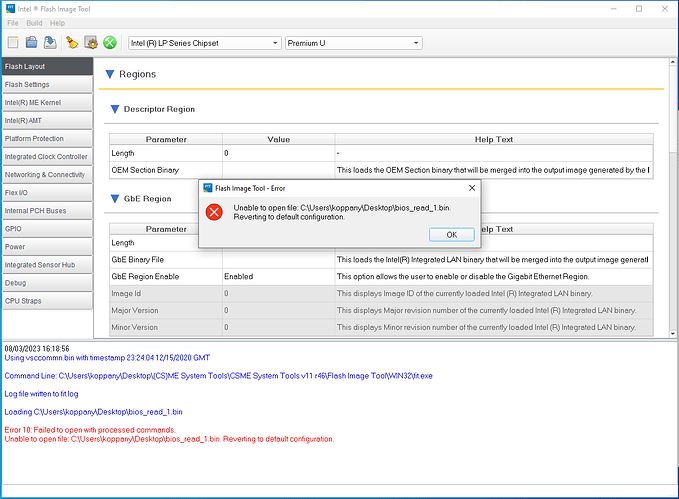 After more searching I came across this post, from where I downloaded the 5040's BIOS and it can be opened in FIT. I'm unsure how to proceed as the 5040's ME differs in minor versions from mine quite a bit.
My question is, how can resolve the FIT error 10 or if I went with the 5040's ME would it cause any trouble and would I be able the update it with the BIOS or is it even worth it to update?
Thank you in advance.
-Andrew
bios_read_1.zip (6.9 MB)