Hiya, Great forum, seems like loads of helpful people here.

I have a Dell Optiplex 3070 which I bought from Dell last year.
It came configured with one Solid State M2 drive and one DVDRom Drive.
I opened up the case and fitted 2x SATA Drives (Traditional Hard Drive Type).
The new drives are recognised by Windows and the Drives section of the BIOS.

My intention is to setup RAID 1 array using the 2 x extra SATA drives (300GB each).
The instructions for how to do this, saying it's supported for my machine.
dell[.]com/support/kbdoc/en-uk/000132392/how-to-configure-raid-on-a-dell-pc (remove [ ] around .)

I have installed the Intel® Rapid Storage Technology Driver and Application from Dell's download drivers site. I was hoping to set up a RAID 1 array with the 2 newly installed SATA drives. I want this to be a redundant data disk separate from the boot disk which I want to remain on the SSD.
Production Version: 18.0.1017.0
Driver Version: 17.9.1.1009

Unfortunately I can't seem to create the raid volume.
I have tried in Windows but although there is an option to create a raid volume, the next button is greyed out.
I have tried pre boot by pressing F12 then choosing device configuration but again the option to create a raid volume is not present at the top.
I have spent hours looking at tutorials and trying loads of different things but nothing seems to help.
Intel have said I need to ask Dell and Dell want $50.00 because I only got the basic warranty. Reluctant to pay Dell because I could get a separate controller card for that money.

Pics attached with the various screens on my device.

Please help, totally lost.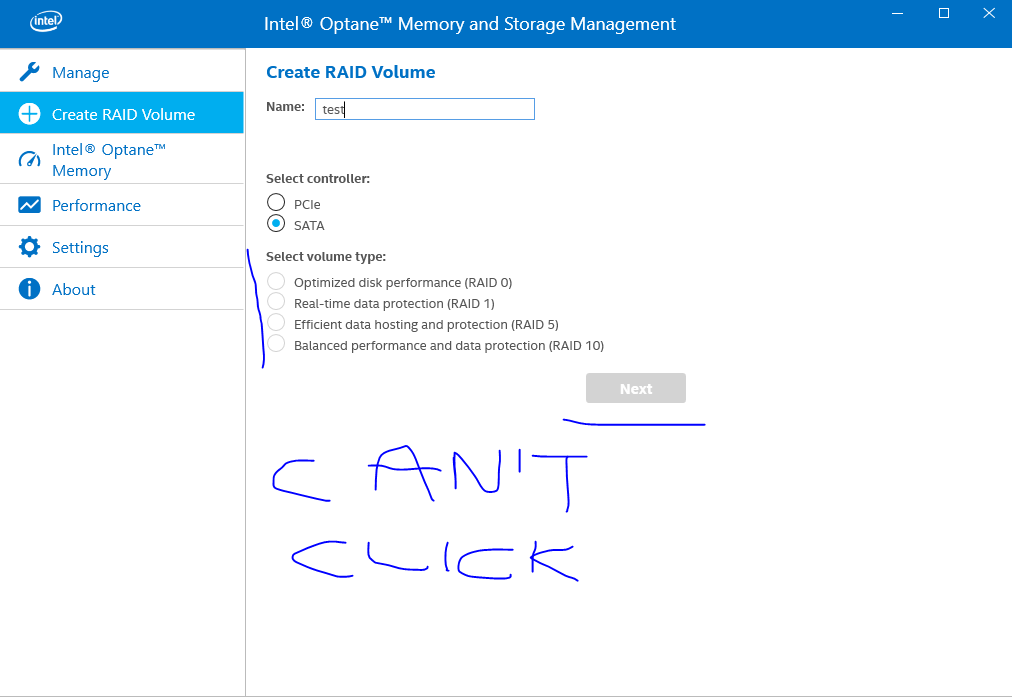 IntelScan1.txt (28.1 KB)