How to edit amisetup and add chipset, advanced menu.
My bios https://mega.nz/#!l0IEWYbT!lQK9ybbM3JoXW…LxTK6de6PvgqXWE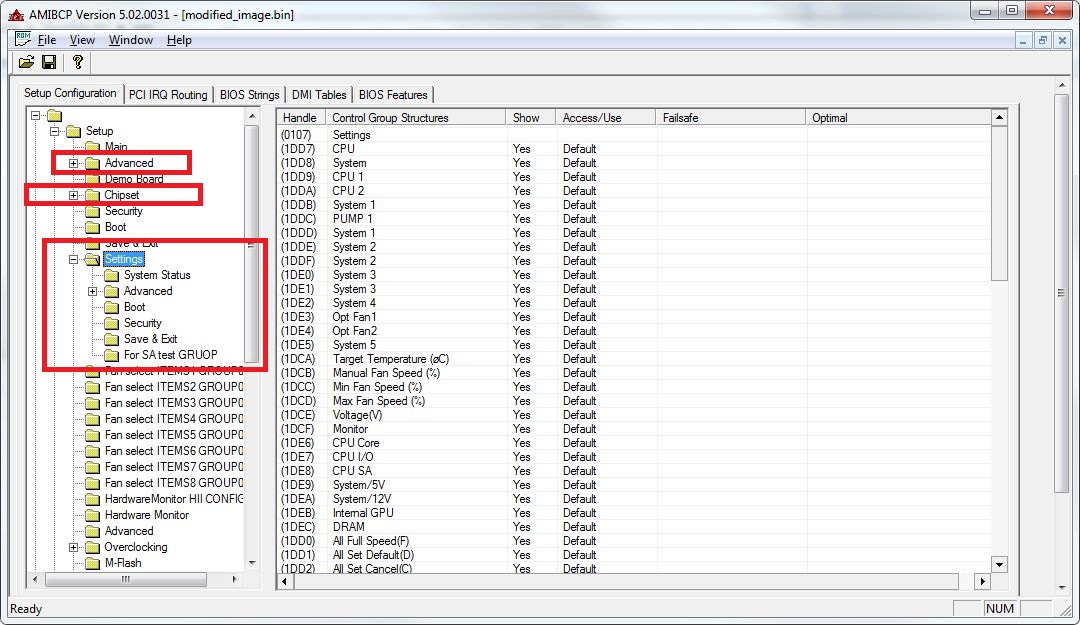 @34kon - MSI BIOS is always a pain
, please give me zipped images of all BIOS, just one of each main BIOS section is fine.

Do you use, or care about the "Security" section? If not, I have a trick that can be used


Please check BIOS main page and see if you find ME FW version shown, if not then download HWINFO64 and in the large window, on left, expand motherboard section and go to ME section and get ME Firmware version.
Once you know the ME Firmware version, download the matching ME System Tools Package from this thread in section "C" - Intel Management Engine: Drivers, Firmware & System Tools
Inside you will find Flash Programming Tools folder, inside that a Windows or Win/Win32 folder. Select that Win folder, hold shift and press right click, choose open command window here (not power shell)
Then run the following command and zip and send me the created file >> FPTw.exe -bios -d biosreg.bin
OK bios reading from Flash Programming Tools
biosreg.zip (5.84 MB)
Thanks @34kon - need BIOS images too once you have time, I think you can F12 screenshot them to USB, then rar or 7zip for me and upload to any free file host, or if you resize/change from BMP to jpg you should be able to zip small enough to fit in attachment here, but probably not if you leave them as BMP
Also, you didn't answer my question about the security tab.
Thanks. Do you have flash programmer? It's not required, only curious if you have in case recovery is needed?
The easiest way is a trick I know to replace security section with either hidden advanced or chipset and when that is done you can use ESC key from there and it will give you the full unlocked menu in it's own section right there when you hit the esc key.
Example of this is described/shown here - [SOLVED] How do I get hidden menus shown within IFS "Form Sets" (3)
Do you want to try that first?
Yes, i have programmator spi. Yes true this.
Great, that feels better, in case we try things aside from swapping section trick as I mentioned. MSI usually very tricky, so that swap may be only option, but we can try other stuff first if you want, since you have programmer.
Make a backup now and make sure it's a valid BIOS, so you have good backup and are ready
Yes my backup bios is valid. I ready.
Sorry, I cannot get this, it's not like the other BIOS I was thinking.
@ MSI
This is only info I know on this kind of modifications and it's very difficult - see pages 14-16 here
[Request] How to Access Locked/Hidden BIOS Menu Settings (14)
as well as this guide, written by @CodeRush for this very purpose >> https://forums.overclockers.ru/viewtopic.php?f=25&t=599984

** Edit - @34kon - however, any settings you want to change in those sections, if it's a few things that are important you wanted to change, I can show you how to do that without any BIOS mod at all.
Would you want info on that since I cannot unlock the BIOS for you? Reason I can't is because those sections are outside of the actual visible to you part of the BIOS layout.
I change setting using AMI BCP, but yes i see you method.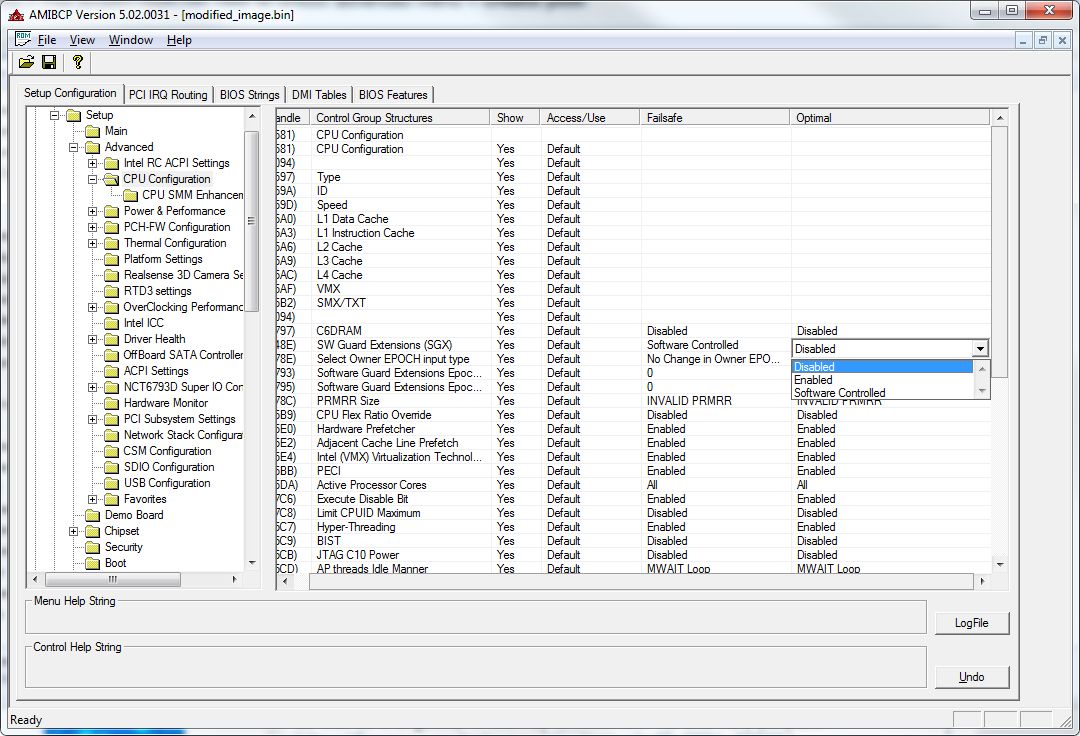 Yes, that will work (Access to User) in AMIBCP, but only in sections where you can already see the main section (visible menu section).
For example, in the advanced section you can see now, yes you can set User to any hidden setting and it will show up, but if section not already visible AMIBCP will not help make visible without other edit to AMITSE module