Hell ou,
as you can see in other thread im trying to make working Windows 7 64bit on Dell 5590 with Geforce RTX 2060 laptop video card:
Making Windows 7 64bit working on Dell 5590 (Coffe lake + Geforce 2060) Laptop + Searching for Device drivers

Except some still open things, but solvable as not working Goodfix fingerprint and Nvidia type C UBS3 controller driver, so its working, even Intel HD 630 videocard, but i paid for nice Geforce gaming card and i want to use it.

Geforce 2060:
Im disappointed, i lived that Geforce 2xxx / 3xxx are still available for Windows 7 64bit, so i bough Dell 5590 notebook with Geforce 2060, but i tried to download drivers from Nvidia web side… and i found out that, its only for desktop GPU and if you select Geforce RT 20 Series (Notebook) on driver website… only Windows 10 driver are available.

Its here some workaround, howto make drivers working for Windows 7 64? Its possible to make Desktop drivers working, Nvidia continue to say that mobile cards, are almost the same as laptop ones and they have special driver restrictions… Idont care too much about Geforce experience and driver auto update etc.



So some mod is needed…

First what i tried, so to install desktop cards drivers, but installed failed not supported card found.

When i trying to force install from inf files - from newest desktop Gefoce Windows 7 64bit drivers, im getting strange message, that operating system is not supported: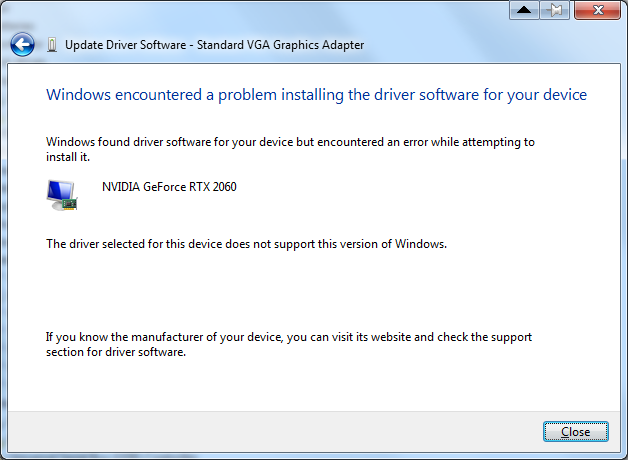 But im quite sure that im running on Windows 7 64bit SP1 and i double checked that driver which im trying to use is for Win7 64bit too.

I dunno if that is some missleading Nvidia error in inf files, or something my OS, but i installed lots of Windows 7 drivers in last days fine… Maybe,maybe wufuc unsupported mesage disable can mess with it, but i doubt it. Maybe its Nvidia new way how to disable user install something from *.inf files.

Anyway here are my inf files:
https://www.dropbox.com/s/lddsqb5zazja3nd/Infs.7z?dl=0

I found video how to simply add some ids to installer here, but im not sure if will fix unsupported OS message, or i probably have to fix it before…:
https://www.youtube.com/watch?v=RzF8O334…nel=DailyIssues

I doubt that i would be that easy, as change ids, but who knows…

I have tried all 10 drivers for Geforce 2060 or Geforce 2060 Super its always the same, this message during forced drivers install and it take a while, if would guess that check Windows version would be first step during driver installation.

My dev id is:
DEV_1F11

I found this DevID mentioned only in 1 minor inf file, not in nv_displ.inf main one etc.

EDIT1 by Fernando: Thread title shortened
EDIT2 by Fernando: Thread title shortened a second time