Hi,
This is kind of embarrassing but I accidentally bricked my motherboard while flashing a bios update using AFUDOS. I didn't have a backup at the time and was wondering if anybody has dumps of the two chips that are onboard. I was going to mod the bios but decided to just try updating the bios to the latest version first.
If not, I'd be willing to try to flash dumps of the foxconn quantumian-1 files which is the retail version of the board.
If anybody can help that would be great. Since it would be a shame to junk the board just because of a bad bios.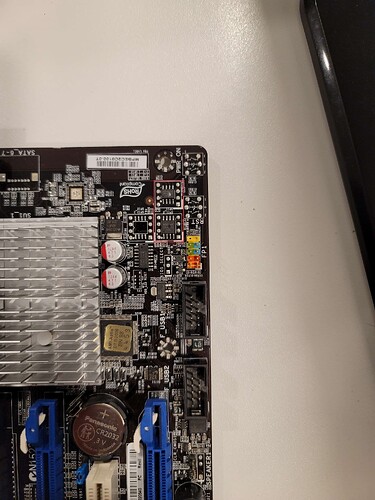 I've outlined the chips in red
Edit: SOLUTION
I've attached the AP4-P11-EY6 bios if anyone needs it in the future. This includes the ME as well so can be directly flashed as needed.
Epson Endeavor Pro 7500 Bios EY6.rar (2.4 MB)