Context:

New PC build this weekend - featuring

ASUS ProArt z490-Creator MOBO
Intel Core™i5 10600K (LGA1200)
32GB of Corsair Vengeance LPX 32GB (CMK16GX4M2B3200C16)

I have

C:\ - Samsung 970 EVO Plus NVMe M2 SSD (500GB) in M2 slot M2_1 on this board
M:\ - Samsung 860 EVO Series SSD (500GB) in SATA6 (AHCI)

Per the manual :

M2 slot M2_1 on this board runs natively at PCIex4. If you switch it to SATA mode - port SATA6G_2 will be disabled - I am not running in SATA mode or using any SATA M2 devices. By all accounts - I should be seeing PCIex4 speeds on my 970 EVO Plus and comparble speeds on the 860

I have installed the Samsung NMVe 3.3 driver per Fernando and the recommended AHCI/SATA driver for this board - v18.31.5.1038 WHQL (also per Fernando.)

However - after the build yesterday - this thing is horrific to use. The PC is choppy, pokey and takes easily 2 minutes to both shutdown and restart.

Samsung Magician is reporting that both drives are running at the right speeds and are using the Samsung driver. Here is the NMVe:




And my M:\ (Media) drive:





But CrystalDiskMark is telling me a whole different negative story:

C Drive is brutal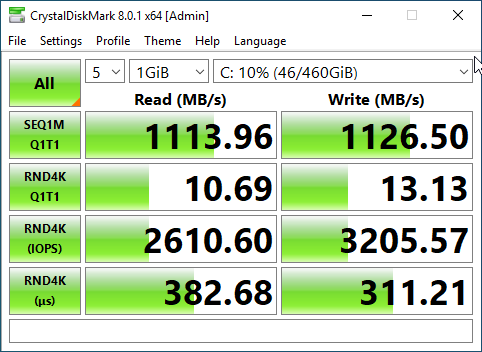 This should be averaging around 3000?

and the M Drive is no better




I am baffled by the slowness - and do not know what I am missing here. Everything seems to be connected and set right. Unless the resource sharing is 100% wrong in the manual

Now - does "SATA MODE" mean having drives connected to SATAG_1 and SATA6G_2 might killing the NMVe performance? (Due to sharing). OR does SATA Mode mean using a SATA-keyed M2 Device in the M2_1 slot vs an actual NMVe keyed device?

I am truly drawing a blank.

Need to get this PC back in shape fast (It's a work box) and right now - it's basically unusable.

Appreciate any tips from the field.

Cheers!

Sonic.