Good Evening,

Since a few days, I have a very serious problem with my Win7 installation (x64, SP1, GPT-partitioned, UEFI-Installation, CSM enabled) on my Samsung NVMe drive (Samsung SSD 970 Evo Plus): After uninstalling the older Samsung NVMe driver (version 3.1 or 3.2) via "Programs & Features" in order to install the newer version 3.3, I decided to fully wipe any remaining drivers to achieve a clean install of the new driver - so I went to Device Manager (with administrative previlegies) and manually uninstalled the corresponding driver for the drive "NVMe Samsung SSD 970 Evo Plus SCSI Disk Device" in the "Disk Drives" section of the Device Manager:

(These Screenshots were actually taken on Win10, since I can't access Win7 anymore)

(PS: Win10 is actually installed on the HDD, not the NVMe-SSD - still, I managed to run the Samsung NVMe driver installer on W10 and successfully install the NVMe drivers on the HDD. I did this, because I wanted to find out the files & their names - so I can tell them here, if they're necessary for a walkthrough
)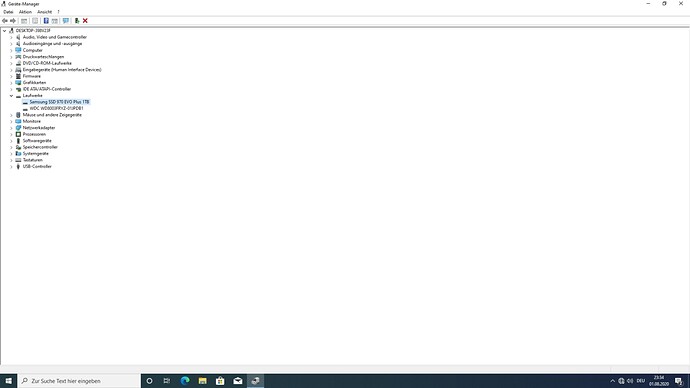 This is what I did AFTER uninstalling the driver in "Programs & Features" - the blue highlighted button is, what I clicked on: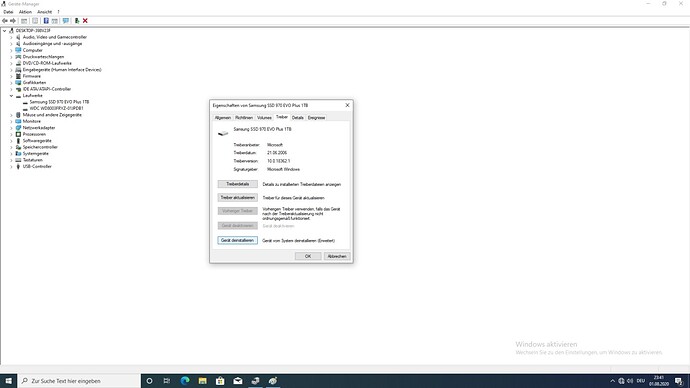 And this is apparently the driver, that was uninstalled by the uninstall action of "Programs & Features":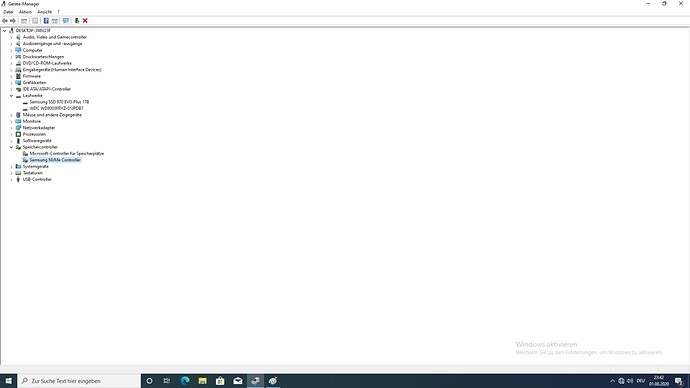 After being done with that, Win7 prompted me for a reboot in order for the changes to take effect - so, I did as prompted…

…and then BSOD with Error Code 0x0000007B every time I try to boot into Win7! And the BSOD message itself always lasts less than 1 second before shutting off/rebooting - so needed multiple BSODs in order to fully see the Error Code.

Since then, I tried the following steps to get Win7 booting again:

1.) Booting into Safe Mode -> failed with BSOD (same Error Code), before even reaching/booting Safe Mode
2.) Booting into Safe Mode with Command Prompt -> same result as in 1.)
3.) Booting with "Last Known Working Configuration" -> again, same result as in 1.)
4.) Starting Win7 installation disk in UEFI mode and trying the following:
- Startup Repair -> no success, same result
- System Restore -> not possible, because apparently "there are no system restore points available" (I doubt that…)

I want to prevent an Inplace Upgrade ("Repair Install") or applying a previous Macrium backup at all costs - because the former would mean, my Windows settings/configurations would get lost/resetted (it took me weeks or even months to do these settings) and the latter would mean, I would lose a lot of data AND installed programs (because that backup is pretty old and I didn't do another backup since then).

The ideas/solutions, that come to my mind:
Is it possible to "inject" the missing drivers during a PE session or during Windows Setup (both methods using a Windows installation media) or with some other sort of external booting media?
Can I "inject" the necessary driver files from a W10 session to Win7? I can't boot W7, but I do have access to the drive where it's installed on and it's folders via W10 File Manager!
Is it possible to run the Samsung driver installer from a Win10 session to actually apply the drivers to a different offline OS (Win7 in my case)?
Option 3 would be very convenient…
Thanks for any support!
AZ
Edit by Fernando: Thread moved into the Win7 Forum section and thread title shortened