Hi Guys,
i messed up with my Dell Optiplex SFF 5060.
Whats happend? I found the device in the e-waste at our company. A short test showed that is still working. My tought: Perfekt for HomeServer, but Yellow Label 3 - ME Disabled. (i want to use Intel AMT for remote on / off etc.)
Long times ago i modfied an olden Optiplex 790 or so. In my thoughts this wasn't to difficult.
But this device has a Intel Q370 with Intel I3 CPU. So i had to the CSME Packages.
As my source of inspiration i use the (Intel (Converged Security) Management Engine: Drivers, Firmware and Tools (2-15)) Website. Very good to read, all information available, a big 'thank you' for the author.
First of all i took a Dump of the SPI via fptw63.exe -d spi.bin. Just to be sure…
In the next steps i followed the instructions from the " How to use FWUpdate Tool at CSME v12: Chapter. Everything worked smoothly. But i wasn't able to active MEBx at all. After that i updated the Dell Bios with the last recent version without any success.
I played with the service jumper. No chance to get MEBx working.
Then i found a thread here in the board relating to an other Dell Workstation. The User dumped the SPI, loaded in into FIT, changed some Parameters, rebuld the Image and then push it with fptw64.exe -desc and fptw64.exe -me back to the SPI.
I did the same and dumb as i am, i ignored the warning about filesize within SPI and the Binary i had created before.
So now the PC makes nothing. Only 2x yellow / 1x yellow Error Code. In my eyes i overwrote the SPI with nonsense, so i have to reflash it.
This device uses a MX25L25673GMT SPI Chip (https://www.macronix.com/Lists/Datasheet/Attachments/8761/MX25L25673G,%203V,%20256Mb,%20v1.7.pdf with an 16-PIN SOP Layout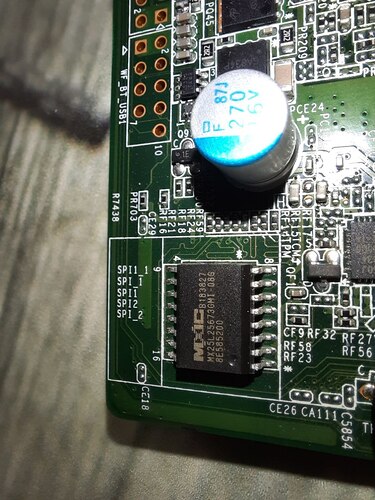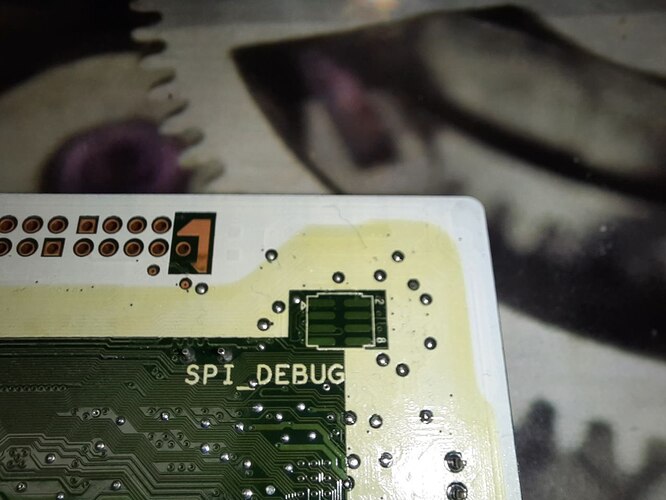 First Question to you → Can i restore the SPI with the existings Dumps i made ?
spi.bin - Google Drive => First Dump without any Dell Bios Updates
╔═══════════════════════════════════════════╗
║         ME Analyzer v1.283.3 r319         ║
╚═══════════════════════════════════════════╝

╔═════════════════════════════════════════════╗
║                spi.bin (1/1)                ║
╟─────────────────────────────┬───────────────╢
║            Family           │     CSE ME    ║
╟─────────────────────────────┼───────────────╢
║           Version           │  12.0.6.1120  ║
╟─────────────────────────────┼───────────────╢
║           Release           │   Production  ║
╟─────────────────────────────┼───────────────╢
║             Type            │   Extracted   ║
╟─────────────────────────────┼───────────────╢
║             SKU             │  Corporate H  ║
╟─────────────────────────────┼───────────────╢
║           Chipset           │ CNP/CMP-H B,A ║
╟─────────────────────────────┼───────────────╢
║ TCB Security Version Number │       1       ║
╟─────────────────────────────┼───────────────╢
║ ARB Security Version Number │       4       ║
╟─────────────────────────────┼───────────────╢
║    Version Control Number   │       10      ║
╟─────────────────────────────┼───────────────╢
║       Production Ready      │      Yes      ║
╟─────────────────────────────┼───────────────╢
║      OEM Configuration      │       No      ║
╟─────────────────────────────┼───────────────╢
║       FWUpdate Support      │   Impossible  ║
╟─────────────────────────────┼───────────────╢
║             Date            │   2018-07-11  ║
╟─────────────────────────────┼───────────────╢
║      File System State      │  Initialized  ║
╟─────────────────────────────┼───────────────╢
║             Size            │    0x77C000   ║
╟─────────────────────────────┼───────────────╢
║       Flash Image Tool      │  12.0.0.1069  ║
╚═════════════════════════════╧═══════════════╝
╔═════════════════════════════════════════════╗
║         Power Management Controller         ║
╟─────────────────────────────┬───────────────╢
║            Family           │      PMC      ║
╟─────────────────────────────┼───────────────╢
║           Version           │ 300.2.11.1015 ║
╟─────────────────────────────┼───────────────╢
║           Release           │   Production  ║
╟─────────────────────────────┼───────────────╢
║             Type            │  Independent  ║
╟─────────────────────────────┼───────────────╢
║         Chipset SKU         │       H       ║
╟─────────────────────────────┼───────────────╢
║       Chipset Stepping      │       B       ║
╟─────────────────────────────┼───────────────╢
║ TCB Security Version Number │       3       ║
╟─────────────────────────────┼───────────────╢
║ ARB Security Version Number │       3       ║
╟─────────────────────────────┼───────────────╢
║    Version Control Number   │       0       ║
╟─────────────────────────────┼───────────────╢
║       Production Ready      │       No      ║
╟─────────────────────────────┼───────────────╢
║             Date            │   2018-07-20  ║
╟─────────────────────────────┼───────────────╢
║             Size            │    0x14000    ║
╟─────────────────────────────┼───────────────╢
║       Chipset Support       │      CNP      ║
╚═════════════════════════════╧═══════════════╝

Warning: Outdated Database (r319 --> r320)!
         Download the latest from https://github.com/platomav/MEAnalyzer/

Press enter to exit

MEInfo from the system before crash
C:\CSME\MEInfo\WIN64>MEInfoWin64.exe
Intel (R) MEInfo Version: 12.0.90.2077
Copyright (C) 2005 - 2022, Intel Corporation. All rights reserved.

General FW Information

    Platform Type                              Desktop
    FW Type                                    Production
    Last ME Reset Reason                       Unknown
    BIOS boot State                            Post Boot
    Slot 1 Board Manufacturer                  0x00001028
    Slot 2 System Assembler                    0x00000000
    Slot 3 Reserved                            0x00000000
    Capability Licensing Service               Enabled
    Local FWUpdate                             Enabled
    OEM ID                                     68853622-EED3-4E83-8A86-6CDE315F6B78
    Integrated Sensor Hub Initial Power State  Disabled
    Intel(R) PTT Supported                     Yes
    Intel(R) PTT initial power-up state        Disabled
    OEM Tag                                    0x00
    TLS                                        Disabled

Intel(R) ME code versions:
    BIOS Version                               1.2.22
    MEBx Version                               12.0.0.0010
    Vendor ID                                  8086
    FW Version                                 12.0.6.1120 H Corporate
    LMS Version                                Not Available
    MEI Driver Version                         2229.3.2.0
    Wireless Hardware Version                  Not Available
    Wireless Driver Version                    Not Available

IUPs Information
    PMC FW Version                             300.2.11.1015
    LOCL FW Version                            12.0.6.1120
    WCOD FW Version                            12.0.6.1120

PCH Information
    PCH Version                                0
    PCH Device ID                              A306
    PCH Step Data                              A0
    PCH SKU Type                               Production PRQ Revenue
    PCH Replacement State                      Disabled
    PCH Replacement Counter                    0
    PCH Unlocked State                         Disabled

Flash Information
    SPI Flash ID 1                             Not Available
    SPI Flash ID 2                             Not Available
    Host Read Access to ME                     Not Available
    Host Write Access to ME                    Not Available
    Host Read Access to EC                     Not Available
    Host Write Access to EC                    Not Available

FW Capabilities                                0x31119140
    Protect Audio Video Path - PRESENT/ENABLED
    Intel(R) Dynamic Application Loader - PRESENT/ENABLED
    Intel(R) Platform Trust Technology - PRESENT/DISABLED
    Persistent RTC and Memory - PRESENT/ENABLED

End Of Manufacturing
    Post Manufacturing NVAR Config Enabled     No
    HW Binding                                 Enabled
    End of Manufacturing Enable                Yes

Intel(R) Active Management Technology -
    Intel(R) AMT State                         Disabled
    M3 Autotest                                Enabled
    Localized Language                         English
    C-link Status                              Enabled
    AMT Global State                           Enabled
    Privacy/Security Level                     Default

Intel(R) Protected Audio Video Path
    Keybox                                     Not Provisioned
    Attestation KeyBox                         Not Available
    EPID Group ID                              0x28C1
    Re-key needed                              False
    PAVP Supported                             Yes

Security Version Numbers
    Minimum Allowed Anti Rollback SVN          1
    Image Anti Rollback SVN                    4
    Trusted Computing Base SVN                 0

FW Supported FPFs
                                               FPF         UEP         ME FW
                                               *In Use
                                               ---         ---         -----
Enforcement Policy                             0x03        0x03        0x03
EK Revoke State                                Not Revoked Not Revoked Not Revoked
PTT                                            Enabled     Enabled     Enabled
OEM ID                                         0x00        0x00        0x00
OEM Key Manifest Present                       Not Present Not Present Not Present
OEM Platform ID                                0x00        0x00        0x00
OEM Secure Boot Policy                         0x3F9       0x3F9       0x3F9
CPU Debugging                                  Enabled     Enabled     Enabled
BSP Initialization                             Enabled     Enabled     Enabled
Protect BIOS Environment                       Enabled     Enabled     Enabled
Measured Boot                                  Enabled     Enabled     Enabled
Verified Boot                                  Enabled     Enabled     Enabled
Key Manifest ID                                0x0F        0x0F        0x0F
Persistent PRTC Backup Power                   Enabled     Enabled     Enabled
RPMB Migration Done                            Disabled    Disabled    Disabled
SOC Config Lock                                Done        Not Done    Done
SPI Boot Source                                Enabled     Enabled     Enabled
TXT Supported                                  Disabled    Disabled    Disabled

ACM SVN FPF                                    0x02
BSMM SVN FPF                                   0x00
KM SVN FPF                                     0x00
OEM Public Key Hash FPF                      69602F34CC9D121ECB7785F4F5CA4153ADC35633FF13A76B914FB2FE2835F691
OEM Public Key Hash UEP                      69602F34CC9D121ECB7785F4F5CA4153ADC35633FF13A76B914FB2FE2835F691
OEM Public Key Hash ME FW                    69602F34CC9D121ECB7785F4F5CA4153ADC35633FF13A76B914FB2FE2835F691
PTT Lockout Override Counter FPF               0x00

C:\CSME\MEInfo\WIN64>

Found a thread about SPI Flashing this chip → https://winraid.level1techs.com/t/problems-flashing-mx25l25673g/34664
Here the Image i flashed via fptw64.exe which makes my device unusable
https://drive.google.com/file/d/1KDY58MmHOiT3_s0tUkfTl2l658CPb5H_/view?usp=sharing
Here the last dump from spi (made with fptw64 -d) (recent BIOS Update from Dell, maybe older ME FW) (used as base image for FIT)
https://drive.google.com/file/d/1tKO4IVKQkb4BvL0S2MY5Ghhtumqro1u7/view?usp=sharing
After FIT i replaced ME Sub Region with this file '12.0.92.2145_COR_H_BA_PRD_EXTR-Y_3AC88DBF.bin'