After help from some excellent people here and at MDL, I now got a BIOS with all available updates integrated. Only the final touch remains; getting the hidden menus to show. What I have tried without much success so far:
-Edited the Setup PE32-image (GUID: 899407D7-99FE-43D8-9A21-79EC328CAC21) and changed all "Suppress If" to false. This gave me a few extra options, like the ability to turn USB completely off.
-Changed just about all menus to USER using AmiBCP v5.02.031. This had no effect.
-Looked for the magic-number; there is only one entry in "Form Sets" in the IFS from Setup, so I concluded it would not work.
-Looked at the IFS from AMITSE (GUID: B1DA0ADF-4F77-4070-A88E-BFFE1C60529A); it only contains A language-list in "String Packages", nothing in "Form Sets" so I have no clue what to do there. Neither can I find any hint about what it is supposed to contain.

Relevant files are attached(These are the results of what I've tried so far). These are the menus in question, those circled i red are the ones I got, the ones circled in blue are the ones I want: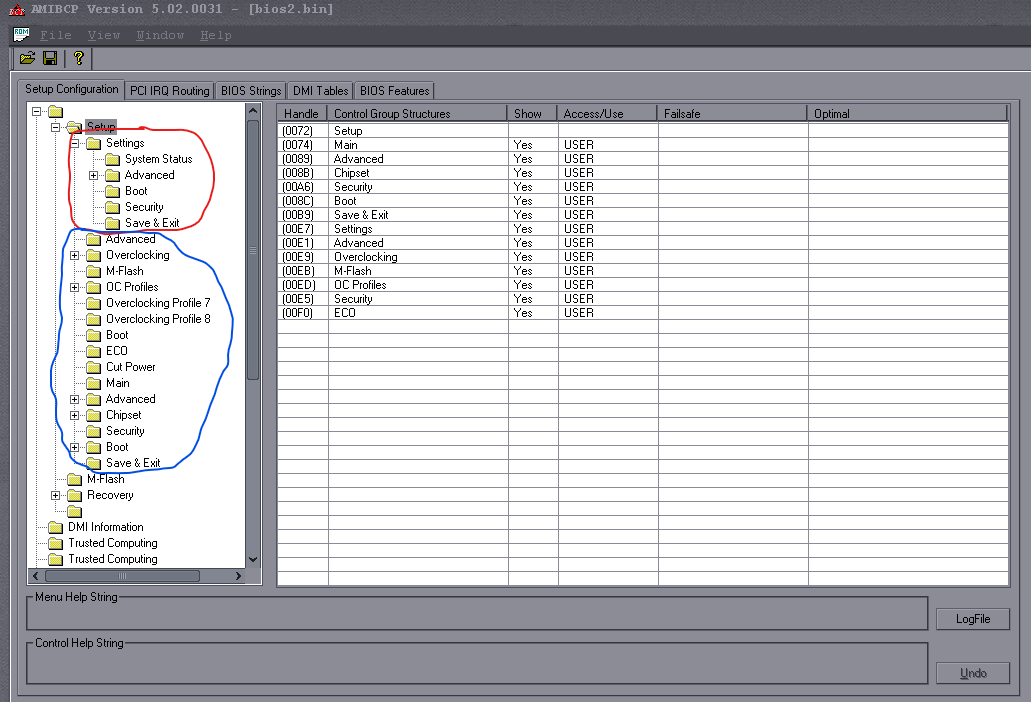 Please someone enlighten me.

Edit: Found a solution, posted it here.

EDIT by Fernando: Thread title shortened (was too long), but can be changed at any time by h_celine by using the "Edit" button under the start post.
E7890IMS.zip (3.96 MB)
Section_PE32_image_AMITSE IFR.zip (427 Bytes)
Section_PE32_image_AMITSE.zip (215 KB)
Section_PE32_image_Setup_Setup IFR.zip (68.6 KB)
Section_PE32_image_Setup_Setup.zip (117 KB)