Hello guys! I'm new on this forum and I'm trying to find a way to fix the issue I have at this moment. I will try to explain exactly what happened. This might be a duplicated topic with this one, but he's using the H55M-S2V motherboard and I'm using the H55M-S2 one (without "V").
The situation:
I tried to make a multiple-boot setup. Each OS being on their HDD. I went to not use the Windows' Boot Manager and plugging the specific HDD with that specific OS I wanted to use instead. wrong mistake ever… When I booted Windows XP, everything went fine. I installed the drivers and required softwares. Same for Windows 7 and Windows 10 (10 being my daily driver OS). When I did shutdown, I unplugged the Windows XP HDD, connected the Windows 7 HDD and then powered on the PC. While booting I've got the "Fix ME Firmware Data" message and the PC rebooted after. The Windows 7 booted with success… Until I went back on my Windows 10 and, from here, everything went bad… When I went to shutdown it, the PC was still ON (no hdd activity, usb devices turned off… just the fans and the power led ON). I said "Maybe might be the SMBus driver again" and tomorrow… "It is not the driver?" And I find the ME device showing a "?" in Device Manager… "This device cannot start. (Code 10)" After shutting down the PC, again, it doesn't power off… Until I found on the internet this topic from this forum (here). But it turns out, that's for H55M-S2V and NOT FOR H55M-S2…
I even tried all methods I can…
Re-flashing the BIOS
Fail-Safe settings
Checking the components
Checking the drivers
That's all I can say. I can share some screenshots as proofs, and maybe i'll get some help…
[1]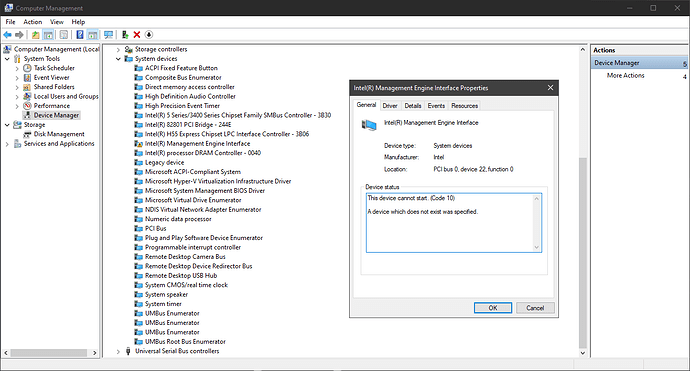 [2]

[3]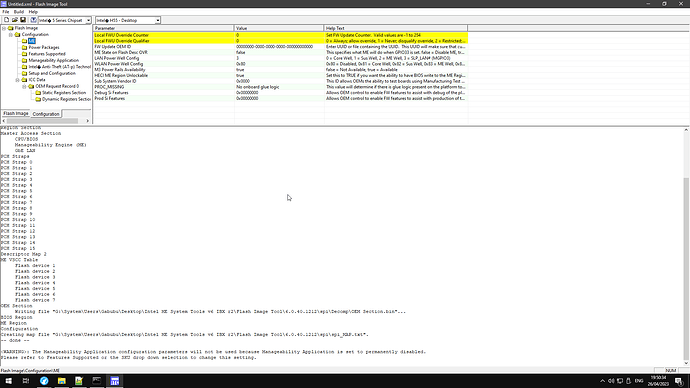 [4]


Update while making this topic lol
Regarding this answer from MeatWar (here), I will try to do that, and maybe that should work @MeatWar! Thanks!
This topic will be still published because I will give you updates regarding this!
One thing I forgot to mention is the specs I have… These might be useless but I think I need to do that:
MOBO: Gigabyte H55M-S2
CPU: Intel i3-540
RAM: 4GB
Storage: 500GB (Storage) + 130GB (Windows 10)
PSU: 500W from Deluxe (Delux… i still confuse them lol)