I'm sharing some extra research info that I couldn't find in the existing bifurcation guides. I collected pieces of various info from all over the place until it started coming all together and making some sense to me. Hopefully this helps someone.

Q: What is IIO?
A: Integrated Input/Output controllers manage traffic between PCI Express and CPU domains.

Q: Why do I see IIO0, IIO1, IIO3 and IIO4 in AMIBCP? Do I need to configure bifurcation on all four IIO?
A: BIOS has four IIO entries because some motherboards may have up to 4CPUs. That's right - each IIO corresponds to its own CPU:
CPU0=IIO0
CPU1=IIO1
CPU2=IIO2
CPU3=IIO3
Note: Some BIOSes start IIO enumeration at IIO1,… so adjust accordingly i.e. first CPU would correspond to the first IIO# from the list and so on.

With that in mind, you should NOT set bifurcation on each IIO. Instead, you need to identify the proper IIO and IOU Port that corresponds to your PCIe slot of choice.

Q: How do I identify the correct IIO and IOU for my slot?
A: First and foremost you need to find the block diagram for your motherboard. I'll use mine as an example below.

Gigabyte MD70-HB0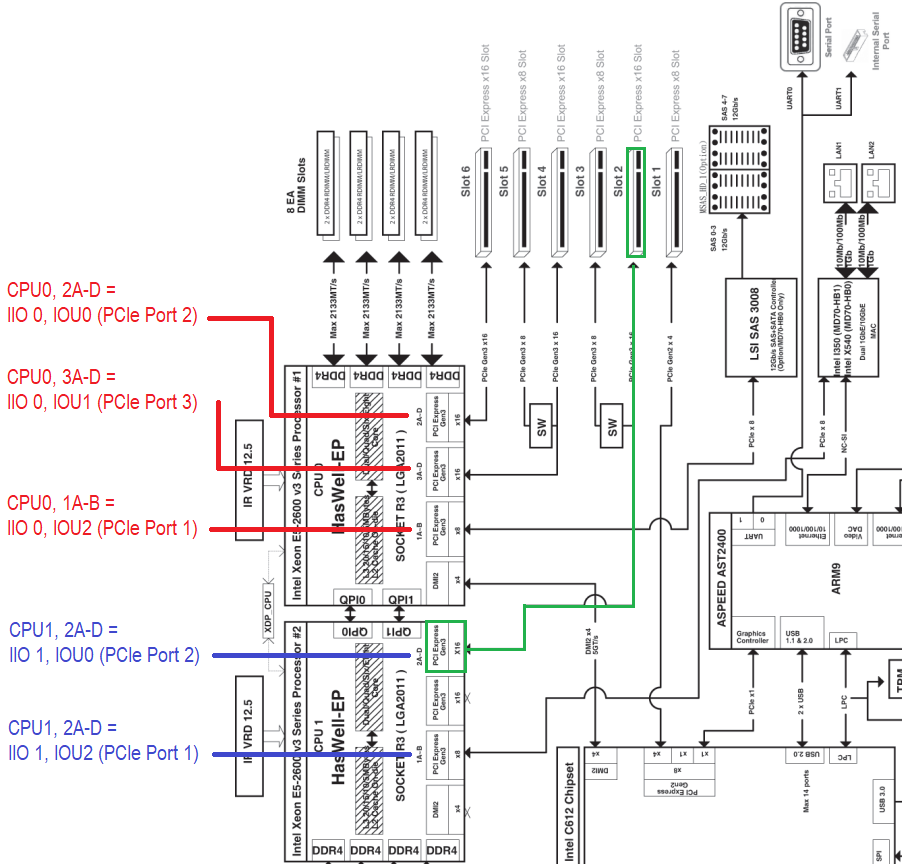 Note CPU0 and CPU1 and how Ports 1A-B, 2A-D, 3A-D on the CPUs are mapped to physical PCIe slots

For instance, Port 2A-D on CPU0 corresponds to physical Slot 6 (x16), the top PCIe slot on my motherboard where I have my GPU plugged in.
While Port 2A-D on CPU1 corresponds to Slot 2 (x16) that can share half the lanes with Slot 3 (if populated).
FYI A-D means four x4 paths that make up a total of x16 lanes. Likewise A-B means two x4 paths, which is x8 in total.

So I wanted to bifurcate Slot 2 (x16), marked in green, which corresponded to "Port 2A-D" aka "IOU0 (PCIe Port2)" on CPU1. Now if I were to change IOU0 settings on all IIOs, then I would have messed up my GPU Slot 6, because it's also IOU0.
To avoid that I changed IOU0 values on IIO1 ONLY. Did NOT touch IIO0.

First try - SUCCESS. To confirm my theory, with the new settings in place, I removed the GPU and plugged my 4xNVMe card into GPU Slot 6 - bifurcation did not work there, only 1 out of 4 NVMe drives was visible, meaning that only the desired PCIe Slot 2 was affected!

I followed this guide to make the changes: [Guide] - How to Bifurcate a PCI-E slot by @davidm71

==========
Question that I am yet to answer:

What happens if I am running a single CPU configuration on this 2-socket mobo? Do I still make the changes under IIO1 > IOU0 (Port2) even though Socket#2 is empty? Perhaps IIOs are bound to Sockets after all, not CPUs? So that the single CPU0 manages its own PCIe slots plus the slots from the unpopulated neighbor Socket#2 over QPI links?

Any comments and corrections are greatly appreciated!